Details

Published on Tuesday, 10 July 2012 12:41
Written by Steve Wennerstrom, IFBB Women's Historian
Chicago, Illinois, July 6: It was only two days after the big 4th of July celebration nationally, but there were still plenty of fireworks on tap at the inaugural Wings of Strength contest held at the Crown Plaza Chicago O'Hare Hotel & Conference Center. On many occasions, a new event has gotten off to a slow start from potential competitors sitting back to observe how an event 'fleshes out' in its first go round. Such was not the case here. On the contrary, the Women's Bodybuilding division drew 19 contestants from nine countries, while the Physique division chipped in with 14 entrants of their own.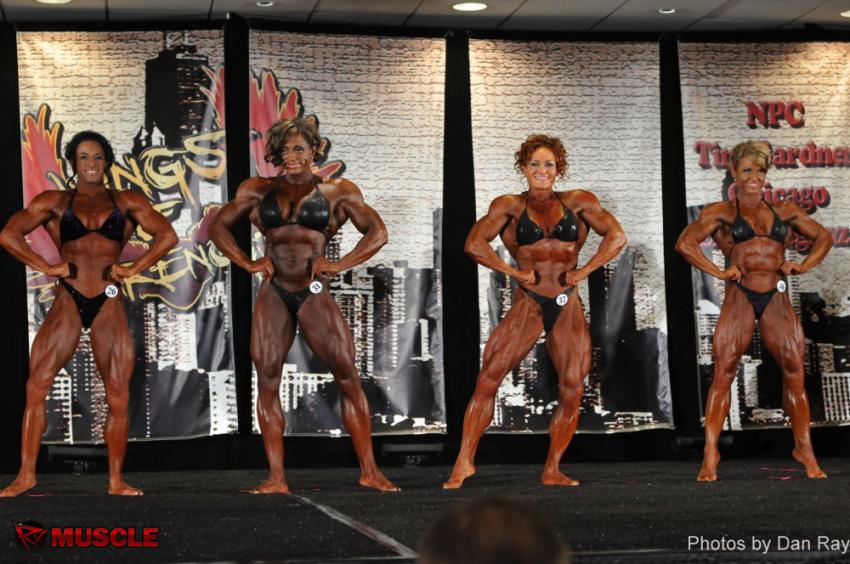 As usual, promoter Tim Gardner staged a first rate event with $9,500 in prize money set aside for the bodybuilding class, and another $3,000 ponied up for the physique class. Should this event become an annual affair on the IFBB contest calendar, bigger fields can be counted on in the future.


BODYBUILDING: MO KNOWS MUSCLE !



For anyone who has watched as Monique Jones emerged on the pro bodybuilding scene after winning the overall IFBB North American Championships in 2010, the rise to a victory at a pro event wasn't a matter of if, but when. The 'when' happened here at the Wings of Strength as Jones used her double wide lats and a great overall structure to land squarely on the top shelf of the awards stand. It was just a week earlier when Jones claimed the third-place spot at the Battle of Champions and many observers felt she was on a path to a contest victory sooner rather than later.

For Monique Jones, her drift from the ranks of figure competitions to the bodybuilding stage came in 2008 and her immediate placings – always in the top three of every contest she entered – culminated with her win at the North American. Since then the ever-improving Jones has competed in five pro contests including a ninth-place finish at the 2011 Ms. Olympia. Now the winner of a pro show in her sixth contest, Jones' 5-9, 175-pound presence will loom even larger at major contests in the immediate future. The win netted Jones a check for $4,000.


Denmark's Helle Nielsen finished second to Jones, and although the final tallies show she was a solid choice of the judges for the runner-up spot, there was no denying she carried an mega-impressive level of contest conditioning and preparation. At 5-5, Nielsen was considerable shorter than Jones, but it was the muscle density and its clarity that helped keep her in contention. Having had what amounts to two separate pro careers, Nielsen has always been an impressive sight on stage. A decade earlier she was the overall winner of the 2003 Jan Tana Classic and followed up with a fifth-place finish at the Ms. Olympia. Then last year she re-surfaced to win the FIBO Power Pro contest in Germany and added at 14th-place finish at the Ms. Olympia – a placing she was roundly disappointed with. That roller coaster ride seemed to continue this year when she placed ninth at the Battle of Champions weighing 170 pounds. Strikingly, and to show how judging results can bend in the wind, Nielsen went from an also-ran placing to a near winning position in a matter of a week. In any other year, Nielsen would now be comfortably qualified for her third trip to the Ms. Olympia, but this year the final decisions are left to a point system in deciding the additional entrants to the premier event. With little argument, Helle Nielsen is plenty good enough to be there. For her runner-up placing she pocketed $2,500.

Placing third and gaining added points towards a Ms. Olympia qualification, New Yorker Michelle Cummings has used her athletic agility to punctuate her muscular appearance on the pro level. Still a newbie by any standard of time put in towards long term goals, Cummings' runner-up finish in her pro debut at the Battle of Champions a week earlier in tandem with her third-place finish here, shows she can handle pro events at a level just below the Olympia and International. Time and continued training may well change all that, but for now she has made a solid impression with judges as they recognize how her 150 pounds is distributed throughout her physique. As for displaying it, she has used her gymnastics background to give some variety to the way a muscular physique can be viewed. So far, so good. Her third-place finish brought her a check for $1,500.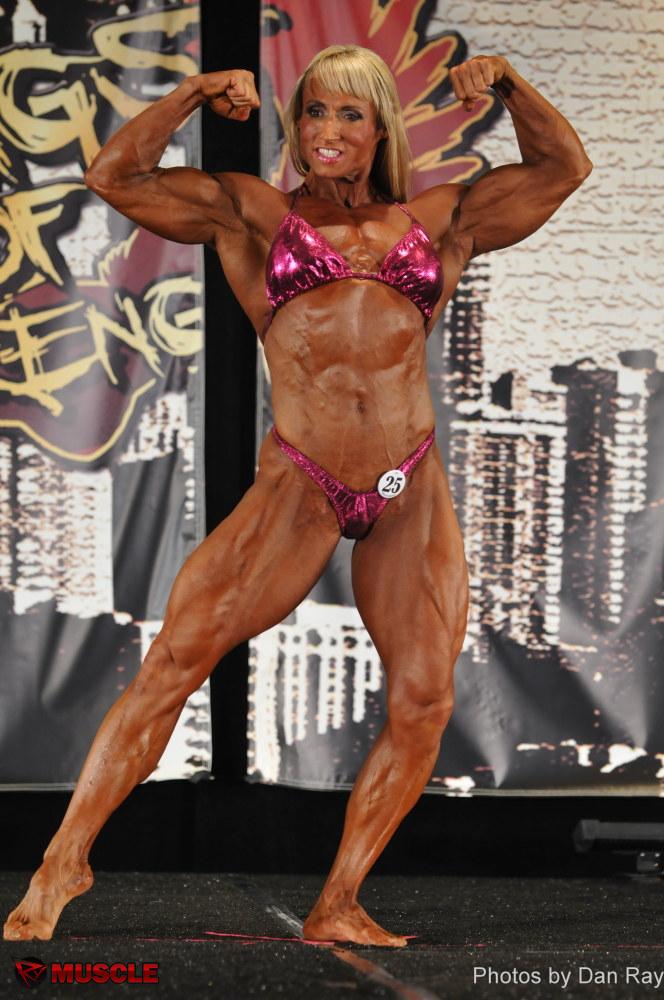 If you were in the audience at the 1986 NPC Teen USA, give yourself bonus points as having seen veteran pro Tazzie Colomb in the earliest beginnings of what has been a stellar competitive bodybuilding career. From the time Colomb won the overall 1992 NPC USA title and throughout her long pro career that is now in its 19th year, she has been a fan favorite and highly respected for her dedication to a sport she dearly loves. Although admittedly, she has been short on pro victories, she has, nonetheless, seen action in four Ms. Olympias, five Ms. Internationals and four Jan Tana Classics. More recently, Colomb was a fourth-place finisher at the 2011 Battle of Champions. This year she again placed fourth at that event. And here, a week later, she has added yet another fourth-place finish. At 5-7, 165 pounds, Colomb always brings an impressive level of highly cultivated muscle that shows striations and separations with every move of her body....meanwhile she shows no signs of purchasing a recliner chair in the immediate future. And about that Teen USA contest in 1986.....she was two years from graduating high school, and she placed second in the HW class. That was 26 years ago. This night her fourth place finish tacked another $1,000 to her career winnings.


The first call-out of prejudging included Emery Miller along with the four competitors mentioned above. Miller was easy to spot. She was the shortest of the five. And she was by far the lightest of the five at 135 pounds. But neither of those realities that some may consider shortcomings did anything to deter from the fact that she solidly deserved to be among those top five contestants. In what is easily the best condition she has ever achieved in a career that dates back a decade to local events she entered in southern California, it might be easy to forget that she was the LW winner at the 2003 NPC USA, and the LW winner at the 2004 NPC Nationals. As a pro she has competed sparingly since 2006, and the last time she competed was in 2010 where she placed 10th at the Tampa Pro. But her fifth-place finish at this event was her best-ever placing at a pro event and sheds new light on what she now has to offer in terms of a no-nonsense level of muscular conditioning on a genetically sound structural frame. She is a complete bodybuilder......just smaller than those who cast shadows around her. Here she managed to step out from those shadows, and the muscular detail and polished overall look she presented gained a whole new fan base pulling for her brand of muscular display. Of the $9,500 in prize money distributed to the bodybuilding division, Emery Miller collected the $500.....her first as a pro.


NOTES: Outside the top five


Sixth-placer Nancy Lewis may not be as well known among today's current fan base, and stepping away from competition for four years from 2005 to 2008 may have caused the 'out of sight, out of mind' syndrome. But the reality is Nancy Lewis entered her first contest in 1984 where she finished second in the LW class at the Santa Cruz Classic. Through her career she was the overall winner at the 1991 NPC USA (the year before Tazzie Colomb won the same title), and has competed in seven Ms. Olympias, and five Ms. Internationals. Competitors like Lewis are a rarity and those who really follow the sport – athletes and fans alike – admire the staying power these women possess.

Seventh-placed Debbie Bramwell has also crafted a long career dating back to the mid-90's. With five entries to the NPC USA between 2002 and 2006, Bramwell turned pro at the 2007 NPC Masters Nationals as the overall winner. By 2008 she had qualified for the Ms. Olympia that year placing 13th. Since then, she has competed at least once each year, and has competed three times at the Tampa Pro placing as high as third in 2008 (the event that qualified her for the Ms. O).

Eighth went to 2010 Canadian HW champion Melody Spetko. Impressively muscled, the 5-5 Spetko turned pro in 2011 competing twice that year with a sixth-place showing at the Toronto Pro. In this field of 19, her top-ten showing is substantial and to her credit.

England's Wendy McCready placed ninth just in front of tenth-placer Russian Natalia Batova. McCready made her pro debut in 2005 after winning the overall British Championships in 2004. At 5-5, 148 pounds, McCready has made excellent improvements over the past year and made her best pro showing ever with a third-place finish at the Toronto Supershow in June.

With Natalia Batova placing tenth, she was one of three competitors who entered this event after the Battle of Champions and improved on her placing. In Hartford she finished 11th. The other two were Monique Jones and Helle Nielsen – pretty good company.



11th – Amy Sibcy , USA 116
12th – Sherry Smith, USA 126
13th – Alevtina Goroshinskaya , Russia 129
14th – Judy Gaillard ,USA 134
15th – Nathalie Foreau, France 148
16th – Giusy Caputo , Italy 160
16th – Sharon Madderson, England 160
16th - Aurelia Grozajova, Slovakia 160
16th – Elizabeth Meza, Mexico 160



NOLA : SECOND TO NONE IN PHYSIQUE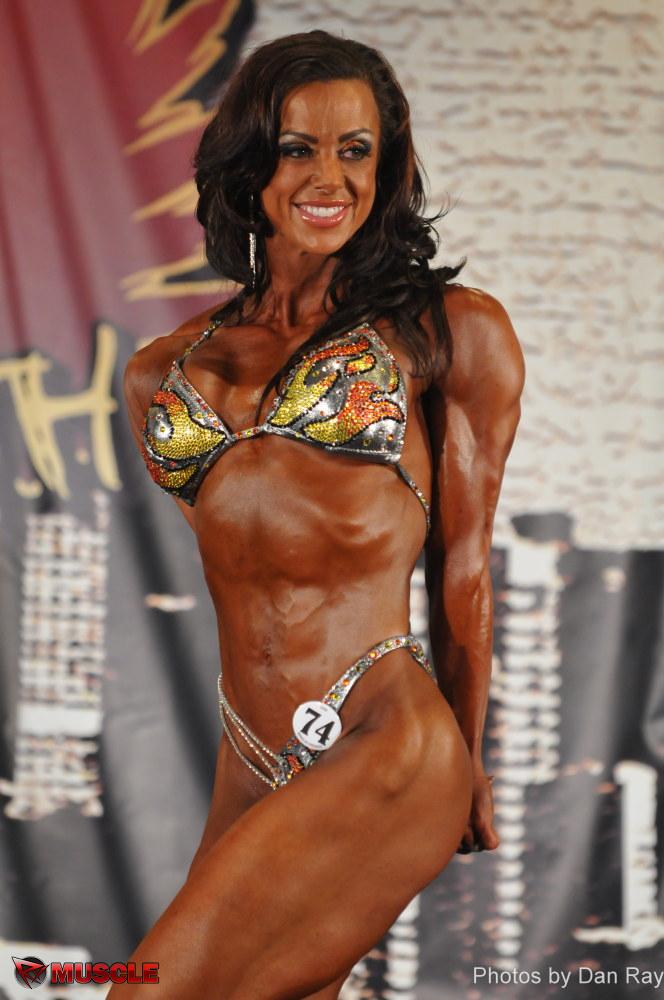 In this first season of IFBB Pro Physique division contests, seven competitors have thus far staked a claim to one of the titles with Sara Hurrle winning twice. And on this weekend, Nola Trimble, in her pro debut, became the eighth at the inaugural Wings of Strength. A colorful personality within the ranks of the new division, much could be said of this multi-faceted female as she has moved through life. Firefighter, EMT, a deployment in Iraq, a superb golfer, and more. Meanwhile, and since 2003 Trimble has competed regularly, first as a figure contestant and more recently in bodybuilding events before finding her niche in the Physique division. It is in this fledgling division that Trimble has established herself as a riveting presence on stage, and her four competitions in 2011 helped prove the point. Her first effort in an amateur physique event came at the NPC Junior USA where she placed third. She followed that with a runner-up spot at the Junior Nationals, and a fourth-place finish at the USA. Then, at the IFBB North American, she earned her pro status as a runner-up. She was then dealt the reality that she would begin looking for her first victory in a Physique event at the pro level rather than as an amateur. The wait didn't take long. The Wings of Strength provided her flight to victory. With the first prejudging call-out that found Trimble placed in the middle of a group of five, Chris Aceto's assessment for RX Muscle was short ,but very much to the point...... "Nola in the middle looking Cleopatra-like. I have her first. Just looks "right" to me." She was, indeed, just right. The judges scored her a unanimous winner....a result that now seems distant from the days in 2006 and '07 where she was placing 12th in her figure class at the NPC Junior Nationals, and 16th at the at the NPC USA. Now on everyone's radar as a top pro Physique competitor it will be of interest to see how she continues to fly as the Wings of Strength champion. Her prize winnings totaled $1,750.


As the mega-popular hometown favorite, Mikaila Soto claimed the runner-up spot to Trimble. With similar physiques, in that both Soto and Trimble were 5-6 and competing in the 130-pound range, Soto offered her own brand of searing stage presence, and judges made her a strong choice for the second-place position. Turning pro as a figure competitor in 2010, Soto endured a series of dismal placings, and with the coming of 2012 her switch to the Physique division seemed to be a better fit when she placed sixth at the St. Louis Pro. But a 19th-place finish at the Show of Champions in New York set Soto back to square one. Undaunted, the fiery Puerto Rican turned up the heat for this Chicago event, and she stands as perhaps the best example of just how volatile the Physique division judging can be in these ground-breaking events. No matter. The fans in Chi-town loved her, and she was well worth the price of admission. Her runner-up prize money totaled $750.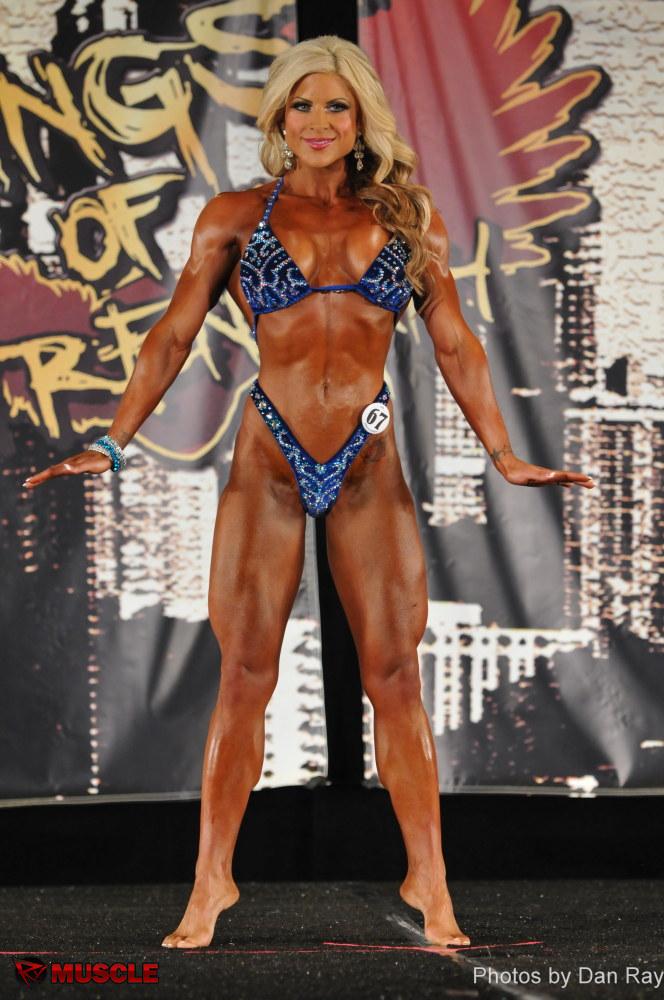 Wow factors were in strong evidence for this Physique division clash, and Californian Monica Escalante offered yet another brand of striking physical presence that found its way into the top three. Another former Figure competitor, Escalante earn her pro stripes with an overall Figure victory at the 2009 NPC Team Universe. As a pro, she experienced a variety of placings and qualified for the Figure Olympia in 2010 where she missed a top-15 placing.. After a 13th-place finish at the California Pro Figure this year, Escalante decided to make the switch to Physique, and her third-place finish in her pro Physique debut should seal the deal on her future contest entries as a solid Physique competitor. Her cash prize totaled $500.

Freshly crowned Greater Gulf States Physique Pro champion Tamee Marie locked up the fourth position here trailing Monica Escalante by six points. Competing in both fitness and figure competitions since 2004, Marie earned her pro status in fitness as a runner-up at the 2010 NPC Team Universe. The muscularity she carries on her 5-9 frame fits well in the pro Physique criteria and she, along with a growing number of taller competitors, will throw multiple curves at judging panels as they make their decisions.

Tennessee's Jennifer Robinson, in four entries at the pro level as a Physique competitor this year has been one of the most consistent competitors in a division where consistency is a very difficult commodity..... as Mikaila Soto can attest. Beginning the year with a fourth-place finish at the St. Louis Pro, Robinson landed fifth at the big Show of Champions in Orlando. Then, she scored a solid third-place finish at the Greater Gulf States in New Orleans. Robinson earned her pro status by winning the 2011 NPC Junior National Physique overall title, and it's a strong bet she'd gladly give up her current consistency to experience that level of result again in the near future.

Sixth went to Canadian Kim Tilden – the second of two competitors entered here who had previously won a pro Physique event this year. Unlike Jennifer Robinson, Tilden has yet to find a level of consistency having placed ninth in the Show of Champions, first at the Toronto Supershow, and sixth here. At 5-8 Tilden shows well in a Physique lineup and as the 2009 Canadian overall Figure champion, she has plenty of experience with stage presence and getting her physique shown properly. Here, her effort was good enough to finish in the middle of the field.



Notes: Outside The Top Sixth-place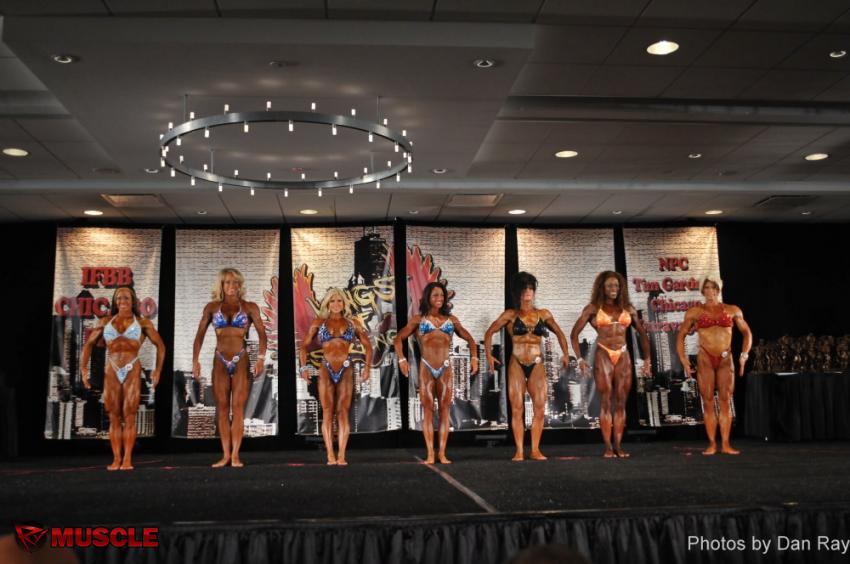 Seventh-placer Melissa DiBernardo matched her placing at the huge New York Pro won by Juliana Malacarne back in May. With both figure and bodybuilding competitive backgrounds, she is easing into the Physique division very well.

New Jersey's Gina Trochiano finished eighth here after a fifth-place finish at the Greater Gulf States. Earning her pro status at the 2009 NPC Team Universe where she won her Figure class, she progressed to the 2010 Figure Olympia (where she placed 14th) after a third-place finish at the Battle of Champions that year.

Paula Williams-Gulman earned her pro card at the 2011 NPC Junior USA, and made her pro debut as a Fitness competitor earlier this year at the IFBB FLEX Pro Fitness where she placed 12th. Here, her current level of development was good enough for a ninth-place finish.

10th – Trina Thompson, USA 49
11th – Monica Martin, Brazil 58
12th – La'Drissa Bonivel, USA 60
13th – Carri Baldwin, USA 64
14th – Laura Davies, Canada 67