Details

Published on Thursday, 01 December 2011 11:56
Written by Bryan Hildebrand
Part 1 of Precision Peptides Bros vs Pros 9: Last Man Standing is a bit misleading. See, there are more than just "Fella's" competing this weekend. Let's talk about what should be the real highlight of the weekend; The Ladies!

Historically, back at Precision Peptides Bros vs Pros 6, we presented a new format for our contestants to try after massive domination on a regular basis by one now famous female bodybuilder; Tazzie Columb. Tazzie's domination was so dramatic, we decided the girls needed an equalizing opportunity. So, not only did we add an event; the Curl, but opened it to men as well - at a mild handicap. More importantly this move opened the potential for athletic competitors from Physique, Figure, Bikini and Fitness to be more readily competitive than their bodybuilding and powerlifting counterparts.

The new format at Precision Peptides Bros vs Pros 8 in Phoenix was an instant hit. With 13 competitors ready to duel it out in the Squat and Curl, the competition was so tight, so fierce, we weren't sure who would emerge victorious. IFBB Pro Bodybuilder Janet Kaufman set the early lead in the squat and was then toppled by IFBB Physique Pro Nola Trimble. But in the end, and after having competed in the Phoenix Pro Show the previous day, IFBB Figure Pro Mikaela Soto out shown them all with more than 70 squats at 80% of her bodyweight. Screaming and pushing her way through an ever increasing pain barrier, Mikaela showed the girls, and guys, how to be a champion.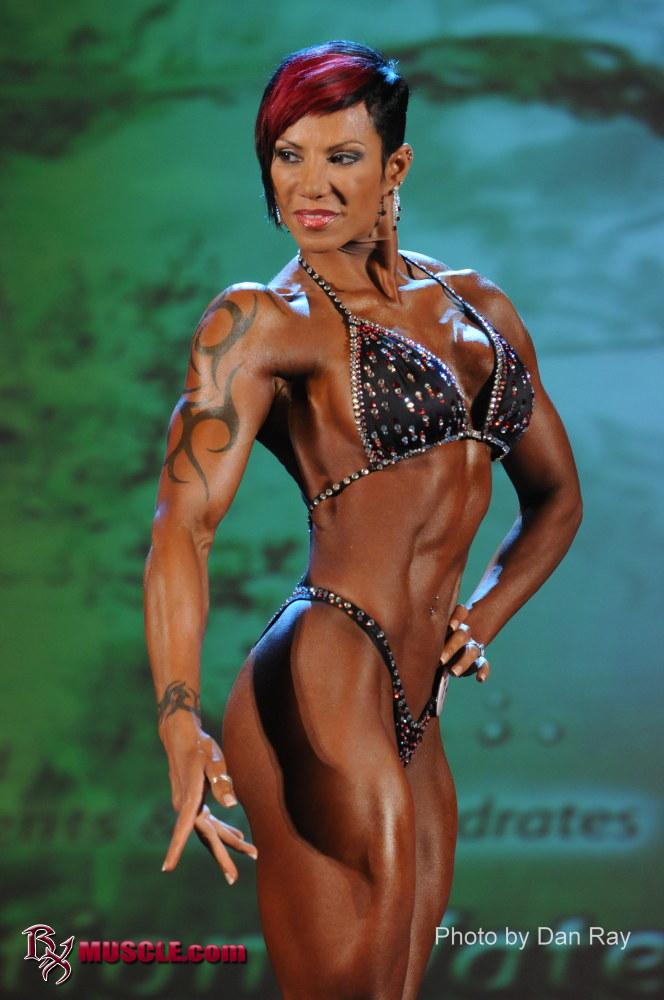 While everyone was sucking wind after such a daunting task, we weren't finished with just one event. While the guys squatted their entire bodyweight for reps, the women had a slight advantage by only squatting 80%. With the second event, the Curl, the men simply couldn't hang with the women. 50% bodyweight vs 40% bodyweight for each group made things interesting. Again, Janet Kaufman worked through rep after rep overcoming grip issues. Nola Trimble stood on the platform for what seemed to be forever grinding out rep after rep, but as the winner of the squat would soon prove, she is the real deal and took the Curl competition, securing her overall victory and taking home the $1,000 top prize.

At Bros vs Pros 9 in Chicago, Mikaela Soto's home town, we will
see a return of the champion to defend her title as well as the feisty Nola Trimble who is now in off season mode and strong as ever. The battle between these two was brutal in Phoenix, now that both are off season, who knows how much energy they have on tap for the Deadlift and Curl.

Several newcomers are going to grace the platform with their athletic prowess. Local girl and IFBB Figure Pro Alicia Harris is looking forward to showing her athletic abilities to her hometown crowd. Teen powerlifting phenom Amanda "Barbell Barbie" Harris is traveling into Chicago with one thing on her mind: show the older gals how its done. IFBB Pro Womens Bodybuilder Sheila Bleck is taking the weekend to join us and show the "little girls" what it takes to make it to the top ranks of women's bodybuilding.

Originally scheduled to compete were the Bros vs Pros Multi Champion Tazzie Colomb and Bros vs Pros 7 Champion and IFBB Figure Pro Ann Titone. One is dealing with an off season injury while the other is committed to a prior event. The other big name person who expressed interest in coming but had to decline due to a contractual obligation was 5' Nothin' IFBB 212lb Pro Men's Bodybuilder Derek Farnsworth. Derek promises we will see him compete at a Bros vs Pros early in the season for 2012. Those who have seen Derek train know at such a relatively light bodyweight, he is massively powerful. Speaking of power, in a recent conversation with Johnny Jackson, he asked me to contact him about competing next year. He is prepping for a powerlifting meet in Texas where he hopes to break the 900lb barrier in the deadlift. We look forward to seeing all of these athletes competing with us in 2012.

Remember, there is never an entry fee to compete at one of our Bros vs Pros events. There is no
admission to spectate, however, a donation of pet food for the local Aurora animal shelter will be most helpful. Jakked Gym co-owner Tami Hicks is a diehard animal lover and volunteers locally. She tells me she and the adoptable animals from the shelter will be very appreciative of any donations that can be made during the holidays. In addition RxMuscle will match pound-for-pound all donations made to the shelter!

We hope to see you this Saturday, December 3rd @ 1:00pm at Jakked Gym, 1450 SE River Road Unit D Montgomery, IL 60538. The gym phone is (630) 966-8611.