Details

Published on Sunday, 31 July 2011 03:34
Written by Steve Wennerstrom, IFBB Women's Historian
Hartford, Connecticut, July 30th: Promoters Ed and Betty Pariso staged their second annual Europa Battle of Champions at the Connecticut Convention Center on a sweltering Saturday afternoon where much of the heat was emanating from inside the contest venue. To say the least, the competition was spirited and the final tallies were agonizingly close. Collectively, the field of women was very well-prepared. With the prejudging of this event held on Friday, 24 contestants made their way to the stage to offer up a stunning variety of bodybuilders ranging from several who were making their pro debuts to a much larger group of veteran competitors who sharply defined the term 'veteran'.

Combining a total of $6,000 in prize money and three qualifying spots for the 2011 Ms. Olympia, it was time to flex.
Setting the Stage

With two dozen entries this year, only four contestants came from outside American borders. And of the 20 who entered last year's inaugural event, just five returned to take part in the second Battle of Champions. Further, of the top five placers from last year's event (won by Slovenia's Brigita Brezovac) only fifth-placer Debbie Bramwell was back in an effort to improve her placement. All that considered, this year's field and the competitiveness it provided exceeded expectations and fans were treated to an exciting contest that left many wondering who would take home the first-place prize money and who would earn the coveted qualifying spots for the upcoming Ms. Olympia.

First Call for Muscle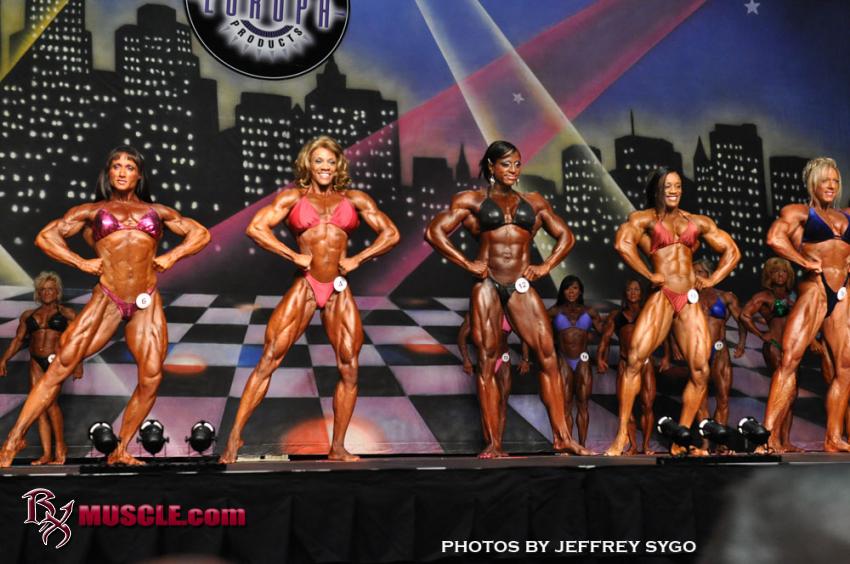 After judges had a good look at all 24 contestants, the first callout of prejudging brought Lora Ottenad, Monique Jones, Kim Perez, Tazzie Colomb, Angie Salvagno and Kim Buck to center stage. If there was a notable element about this first group, it was the formidable overall size of the women. With the exception of Salvagno who now competes nearer the 150 mark, the remainder of this group all weighed in excess of
160 pounds. At this event, it seemed, size definitely mattered. After a first appraisal, Perez, Jones and Buck were returned to the line-up while judges needed a closer look at Colomb, Ottenad and Salvagno. A second callout brought Mexico's Maria Segura, Jennifer Sedia, Debbie Bramwell, Candice Carr-Archer of Trinidad, Pam Franklin making her pro debut, and Sarah Hayes.

Placings in Clearer Focus

In narrowing down those who would end up in the top five, it became clear that Kim Perez's stunning musculature, Tazzie Colomb's seering level of condition, Monique Jones' terrific overall structure, and the statuesque and well-balanced Kim Buck would all pin down a spot in the top group. The final position would further stress the judging panel in an effort to separate Lora Ottenad and Angie Salvagno.


Bucking a Trend……..

As the contest wore on, it became increasingly clear that Kim Buck was carrying a level of physical magic that was distancing her from the field. In past years she had pretty much managed to fly under the radar – no easy feat when you're 5-8 – but in her competitive career, Buck had been a work in progress, and it looked like it was about to come to fruition…..in fact, she may just now be getting started. She has arrived.
Competing sparingly since 1998, Buck reached the pro ranks with an overall win at the NPC Masters Nationals in 2006. And over the past five years her contest efforts were all over the charts. She had been third HW at the 2007 Jan Tana Pro Classic, but had slipped all the way to 14th at the New York Pro event in 2008. At the 2009 New York Pro she missed placing altogether. This year a seventh-place finish at the Tampa Pro contest showed signs of renewed physical excellence. The Tampa event was just a month
earlier, but the look she presented on this day was light years away from that event and with a business management degree from Norfolk State in her past, she was managing the business of presenting a new and improved Kim Buck in fine fashion. As the score sheet showed, Kim Buck was a unanimous winner distributing a well-balanced 160 pounds over her 5-8 frame with a level of elegance and stage persona that
will make a very good fit in a Ms. Olympia lineup. Her victory here included a check for $3,000 and an invite to that Ms. O event in September. Those 14th-place finishes may now be a thing of the past.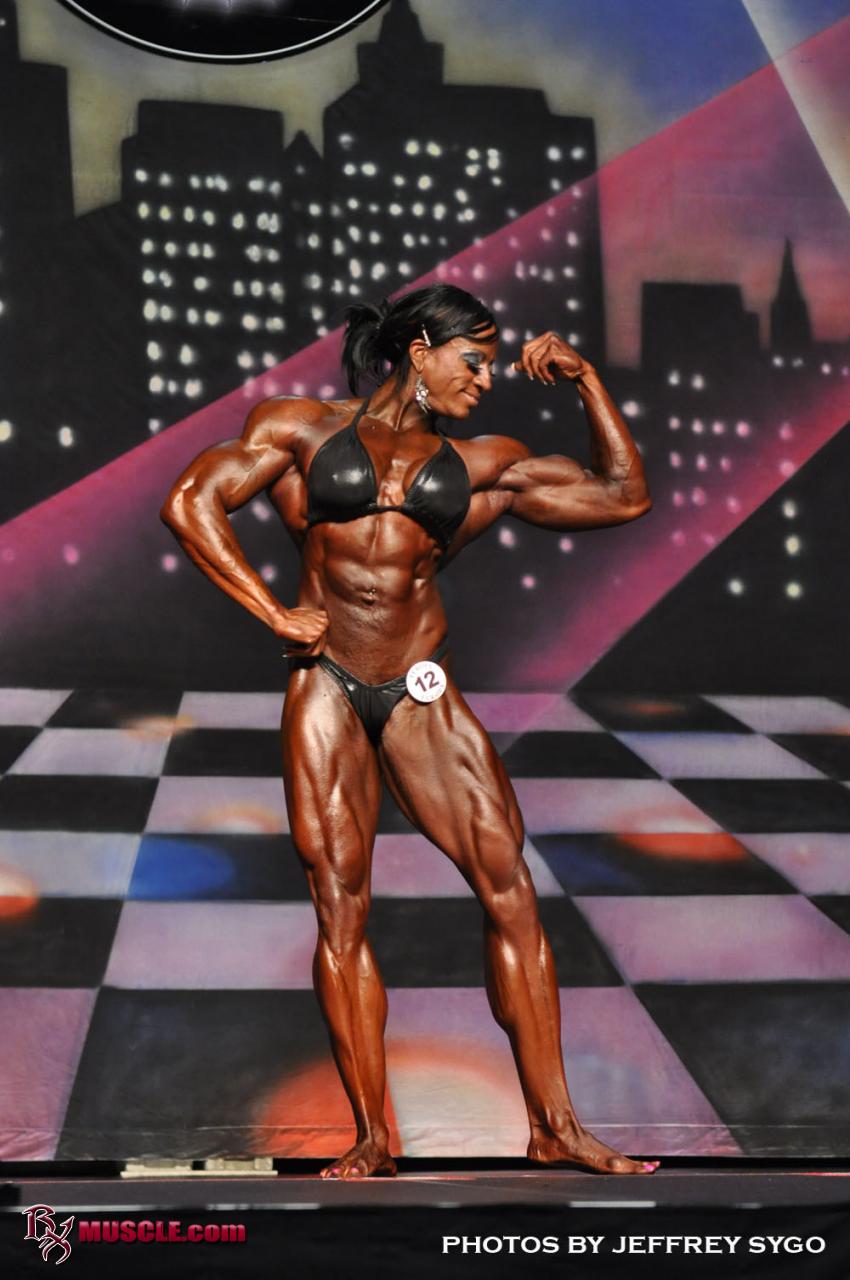 Making the battle for the top spots all the more interesting was Monique Jones and Kim Perez. Just how interesting they made the contest can be seen – once again – in the final score sheet. Both Jones and Perez tied with 25 points each and it took a tie-breaker to find Jones as the runner-up with Perez settling for third. The paths these two competitors took in meeting today were different but had a common ground. Coincidentally, both women had been former overall winners at the IFBB North American Championships – five years apart. Perez took the crown in 2005 and Jones won the title in 2010. The primary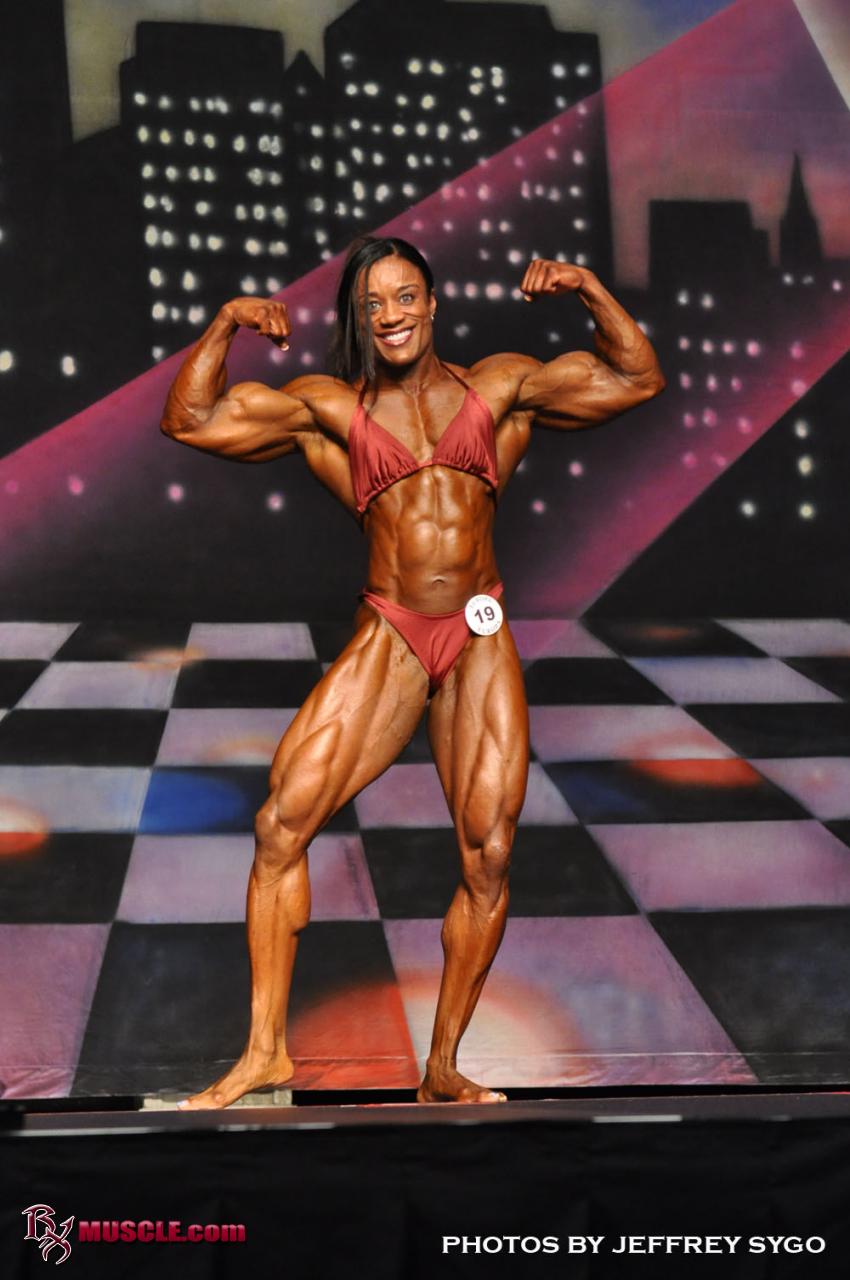 difference is that Perez had not competed since 2008 when she placed fourth at the Tampa Pro show that year, while Jones made her pro debut at the same Tampa contest last month placing fifth. The duo is tailor-made for entry to the Ms. Olympia level with physiques that are very different, but both highly impressive standing
alone. Perez possesses an upper body that is awe-inspiring while carrying a subtle but noteworthy stage presence. Jones relies – at least so far – on a sterling genetic base that she can continue to build on and become a force at any pro event. For this contest, Jones weighed 171 pounds, while Perez says she floats anywhere between 158 and 162, caring little about her weight and paying closer attention to how she looks. Here, the judges were torn between them and they'll be faced with the same dilemma on the Olympia stage where both have now qualified. Finishing second, Jones wins $2,000, and Perez pockets $1,000 for third.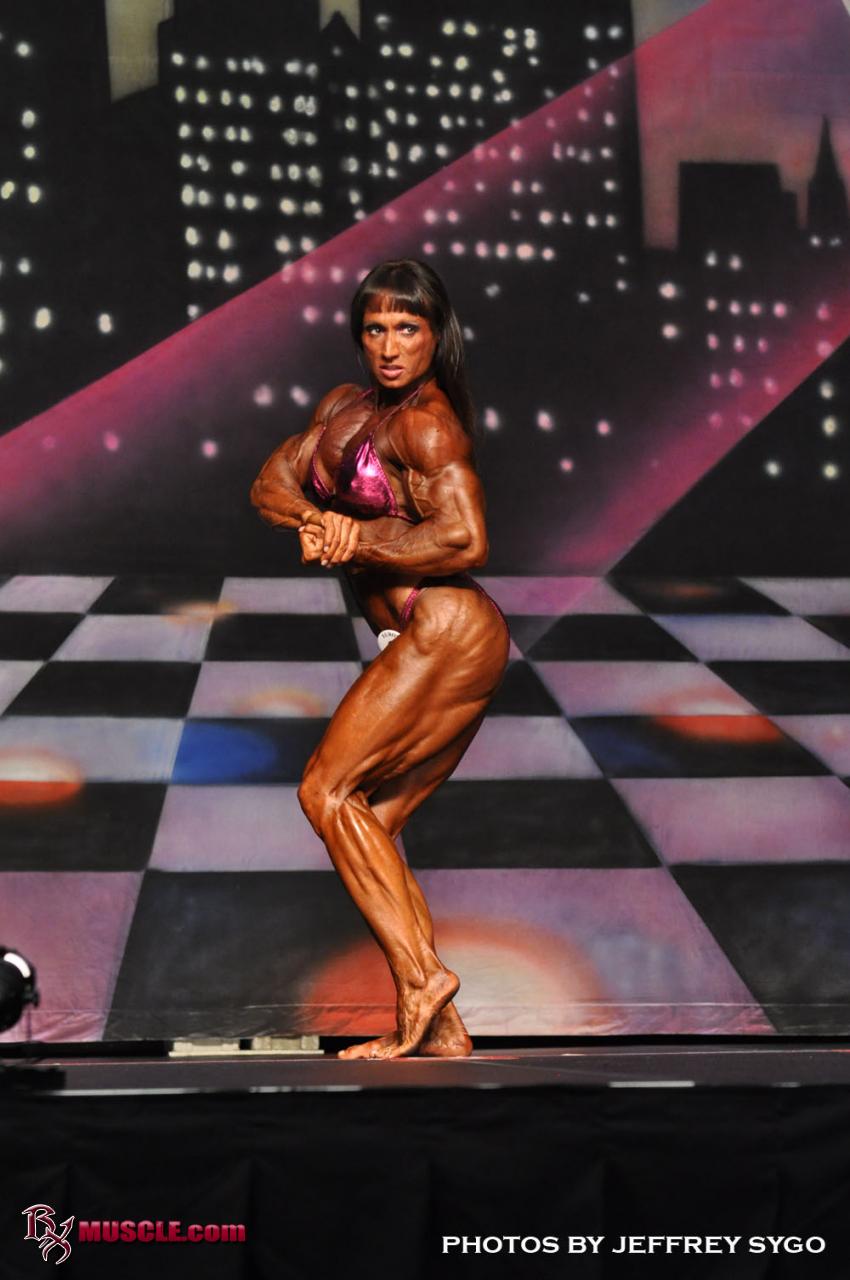 The close scoring battles failed to evaporate with the Jones and Perez tie-breaker confrontation. The race for fourth and fifth was equally intense. Veteran Tazzie Colomb and 2009 NPC USA overall champion Angie Salvagno were separated by just two points with Colomb getting the eventual nod 44 to 46. Competing since the mid-80's, Tazzie Colomb has been a familiar and always colorful face and physique on the bodybuilding scene. Possessing the ability to be fiercely competitive while carrying that sultry Louisana southern style, Colomb is at home on a bodybuilding stage, a powerlifting platform or a strength contest of any kind. Put up the challenge and she's up for the game. Here, she was, with little argument, the most
highly conditioned competitor in the field. From the side, her glutes were striated without even trying to flex them. Even Iris Kyle would approve. But in slipping out of Olympia qualifying contention, it seemed to have more to do with her overall structure than anything she lacked in muscle and its conditioning. As a former overall winner of the NPC USA in 1992 and a competitor at the Ms. Olympia on four occasions, she's capable of doing it again. After all, she was eighth at this contest last year and bounced up to fourth this time around. For all who know her, she's one of the jewels in the realm of women's bodybuilding.

Falling just two points shy of Colomb, Angie Salvagno continues to make the necessary improvements to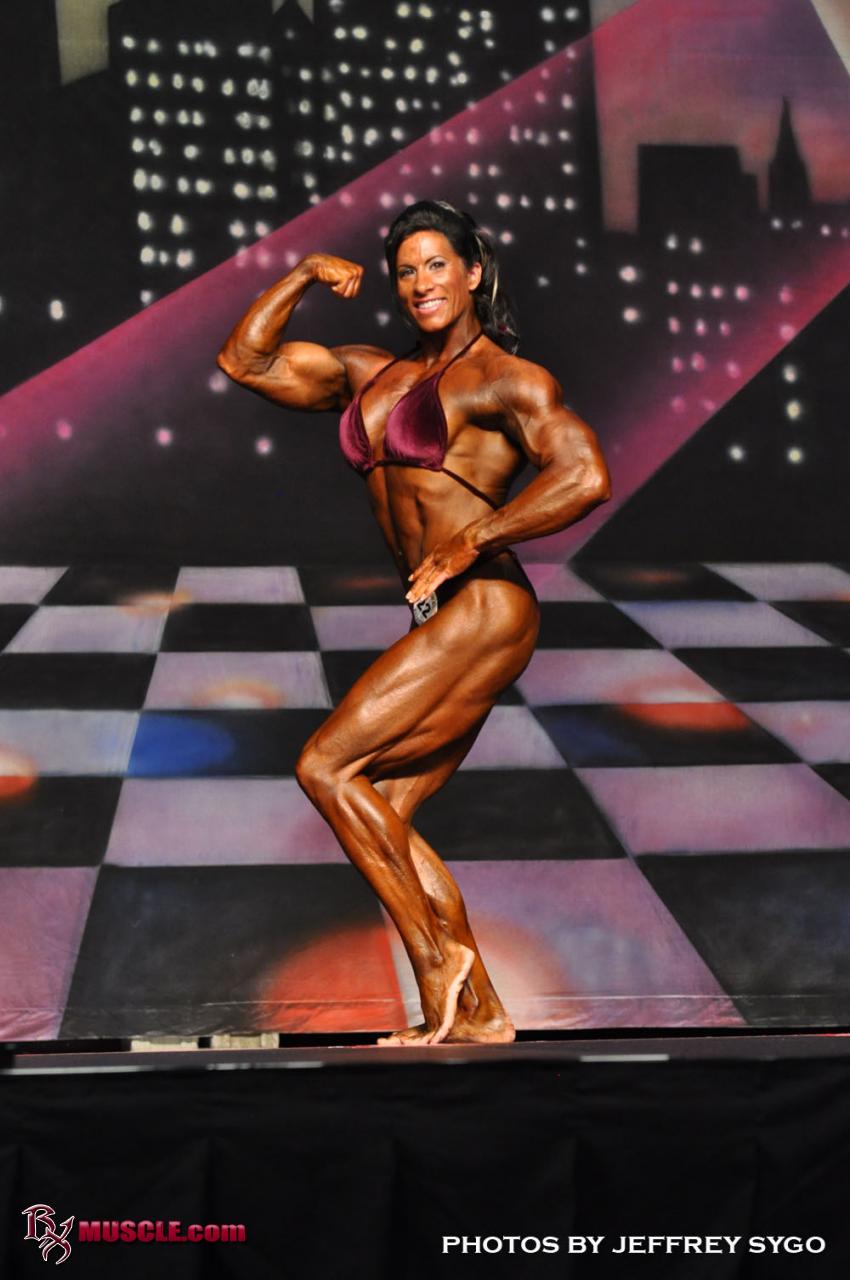 keep her competitive in these quality fields. Like Colomb, Salvagno was a former NPC USA overall champion in 2009, and since then has been a consistently strong placer with a pair of sixth-place finishes at the '09 and '11 Tampa Pro events. Here fifth-place finish here brings her ever closer to reaching the Ms. Olympia stage.

Outside the top five was sixth-placed Lora Ottenad. Another veteran with 20 competitive years under her weight belt, the 2006 overall NPC National champion made a superb recovery from a forgettable 12th-place finish at the Tampa Pro contest last month. Her finish here was far more reasonable considering her genetic size and muscular impressiveness alone. Ottenad joined those who finished ahead of her in the first callout of prejudging, so judges were on key with recognizing her physical qualities.


Seventh-placer Debbie Bramwell slipped two spots from her fifth-place finish at this event last year, but few can deny the special joy she carries with her to the stage. With peaked biceps, a huge triceps pose, her terrific side chest display and a sound level of body awareness on stage and how she carries herself, she's a joy to watch. At this event, however, she simply ran into a stellar group of very fine competitors.

Eighth went to Texan Jennifer Sedia who knows the feeling of reaching the Ms. O stage, and will need to continue her efforts to carve more detail between her well-shaped muscle groups to repeat that visit to Las Vegas.

Ninth went to the massively-developed Maria Segura of Mexico. For fans of muscle density, Segura has few peers. From her shoulders to her quads, she is a marvel of muscle mass. Standing just over 5-0 in height, the 2009 IFBB North American champion and Arnold Amateur Classic winner in 2010, she was entering her fourth pro event and the Hartford finish is her highest placement to date.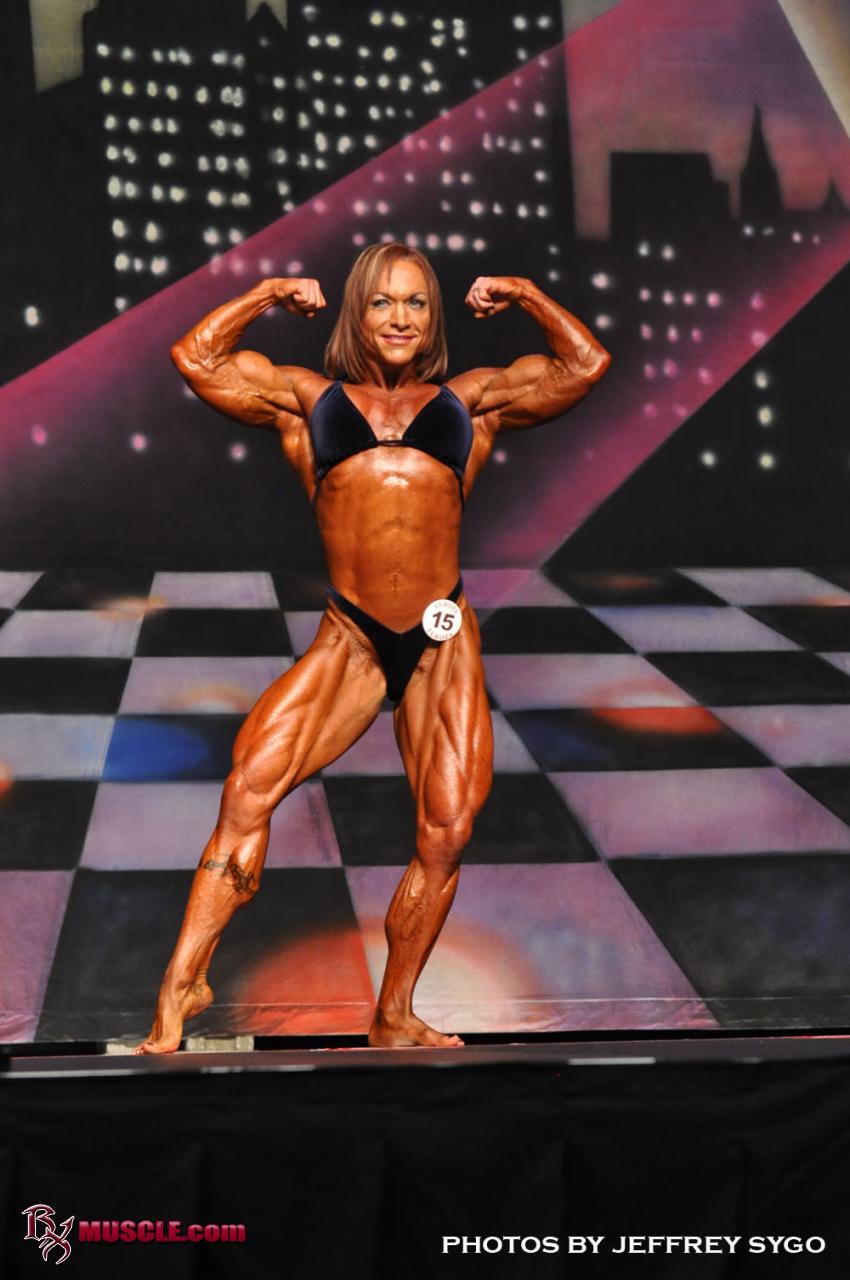 The tenth spot went to last year's overall NPC Masters champion Claire O'Connell. No doubt pleased with being seen by the judges here, O'Connell sports a very well-prepared physique that will always have difficulty rising above the taller timber at events where there are no weight classes. Finishing in the top ten here, however, is a far cry from falling completely out of the placings she experienced in Tampa last month.

The best of the rest:

11- Bonnie Pappas, USA (pro debut)
12- Drorit Kernes, USA
13- Sarah Hayes, USA
14- Candice Carr-Archer, Trinidad
15- Pam Franklin, USA (pro debut)
16- Nicole Acker, South Africa
16- Irene Andersen, Sweden
16- Heather Foster, USA
16- Mary Ellen Jerumbo, USA
16- Julia Korfhage, USA (pro debut)
16- Tammy Patnode, USA
16- Stacy Pillari, USA
16- Gina Quinn, USA (pro debut)
16- Lori Steele, USA (pro debut)

END