Details

Published on Saturday, 18 June 2011 13:41
Written by By Steve Wennerstrom, IFBB Women's Historian
No other city in Canada has a richer tradition when it comes to pro women's bodybuilding than Toronto, Ontario. And on the weekend of June 17-18, Toronto welcomed back pro women's bodybuilding for the first time in 17 years when it hosted the Toronto Super Show. Promoted by Ron Hache, Jim Morris and Carla Hains, and staged at the Metro Toronto Convention Centre's John Bassett Theatre, a field of 10 contestants from six countries competed for three available qualifying spots at the Ms. Olympia and $6,000 in prize money.

Toronto can claim a historically rich heritage when it comes to women's bodybuilding at the pro level dating back to the 80's when the Skyline Hotel staged the IFBB Pro Worlds over a four-year span from 1984 to 1987 with winners that included Lori Bowen, Mary Roberts, Juliette Bergmann, and Bev Francis. In the decade of the 90's it was mega-muscular Canadian Laura Binetti who rocked the stage at the 1994 Canada Pro Cup in a field of 11 competitors. Since then, no other pro women's bodybuilding event had taken place on Canadian soil until now. And this contest was a welcome addition to the pro schedule.

Cutting to the Chase



Judges spared little time in carving out a top group for closer inspection. In fact, the first call-out of prejudging included only four competitors as opposed to the normal five. Coincidentally, the first four women called out (Brigita Brezovac, Nicole Ball, Cathy Lefrancois and Mah-Ann Mendoza) all had previous Ms. Olympia experience. The second call-out of six had not.


Slovenian Brigita Brezovac looked unstoppable from the outset. And exactly 11 months to the day when she made her victorious pro debut in Tampa last year, this striking blonde was once again showing a level of completeness throughout her physique that made it difficult for the rest of the field to challenge. Improving on her look from 2010 where she also won the Battle of Champions in Hartford just a week after her Tampa victory, and a 10th-place finish at the Ms. Olympia, Brezovac was careful not to overdue her muscular level or overall conditioning. It was a pleasing look that showed plenty of detail and was professionally presented (with a momentary costume malfunction the only blip on the radar screen). She was a clear winner here and she'll carry that look to Tampa next week for the Pro Bodybuilding Weekly contest in an effort to defend her title from last year. For her efforts she pocketed the winner's check for $3,000.

Running second to Brezovac was Canadian Nicole Ball. Showing a greatly improved look from last year, the three-time Olympia competitor made notable improvements in her leg volume with a far more impressive sweep to her thighs than she has exhibited in the past.
Along with her ability to nail the proper hair, makeup and skintone selections along with competition suits that complement her overall look, she retains a strong level of stage presence and persona…especially when she is confident with her conditioning level. Unlike 2009 when she competed twice in an effort to qualify for the Ms. Olympia - eventuating in a less than desirable outcome in her final placement - her runner-up finish here will give her the valuable time to continue her improvements without the need to prep for another contest between now and Olympia time. Ball's check amounted to $2,000 for second.
Third place went to Mah-Ann Mendoza who could quite easily be considered a sentimental favorite with the understanding that she had faced a battle with cancer recently. A veteran competitor who first took to the competitive stage in 1990 as a seventh-place lightweight finisher at the NPC Western Oregon, Mendoza rose to the pro level after winning the overall NPC USA title in 2001. She's been a pro ever since having competed in five Ms. Internationals and four Ms.O's. Along the way she was also an overall winner at the 2007 Europa Super Show. Her conditioning level at this event was nothing short of miraculous considering the challenges she faced. It could be said that she easily equaled the best she's ever been in her long competitive career – and only guts, conviction, desire, faith and a strong allegiance to her self-worth made that possible. The $1,000 in prize money for her third-place finish is miniscule in the bigger picture.
But more importantly, hats off to you Mah-Ann, and big ups to a 52-year-old female bodybuilder anyone can greatly admire…and is now qualified for another trip to the Ms. Olympia.


Finishing fourth was Cathy Lefrancois. A true veteran of the pro ranks, Lefrancois turned pro in 1995 – 16 years ago! And along her competitive journey she has competed in 10 Ms. Internationals (winning the LW class in 2003), and four Ms. Olympias. Included in her longstanding desire to compete, she also won three successive New York Pro events in 2008, '09, and '10. But this year may be her mightiest challenge with what appears to be five contests on her competitive docket. She's already placed sixth at the Ms. International and third at the FIBO Pro contest in Germany. Here she adds a fourth-place finish and is holding up well considering the training, prepping and travel demands she is undertaking. Talk about strong-willed! Three down, two to go.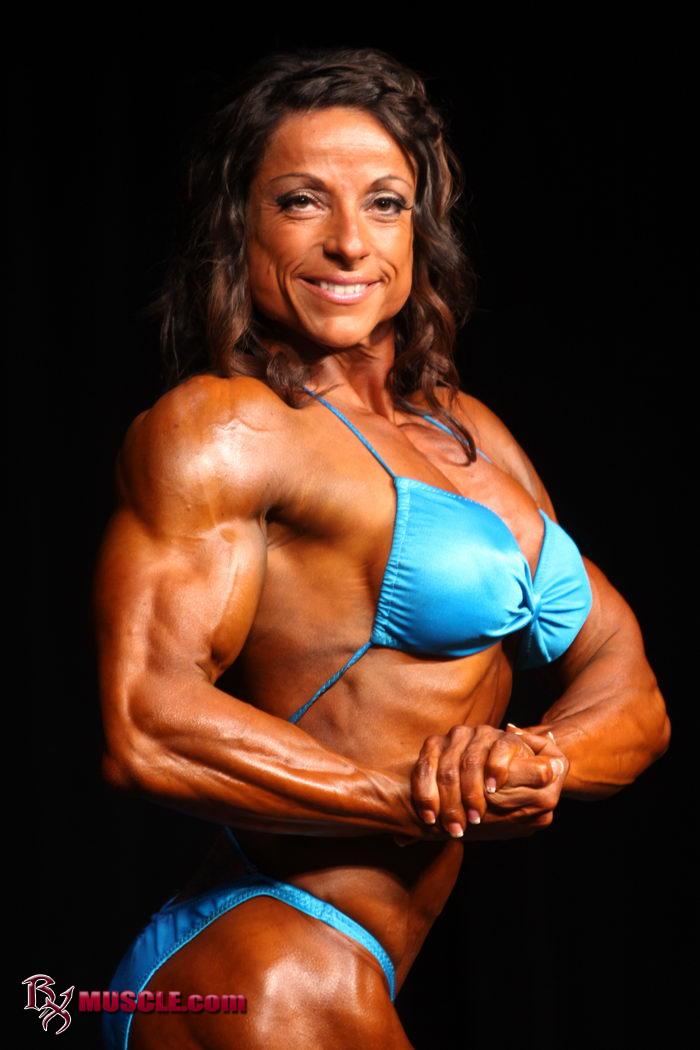 Cracking the top five in your pro debut can be considered a major accomplishment no matter how many contestants are on stage. And Canadian Lyris Cappelle did just that with a fifth-place finish at this event. From Swift Current, Saskatchewan, Cappelle is a former overall Canadian champion who will gain valuable experience with this debut contest on her home turf, followed by a trip to Tampa for a much larger event where over 20 contestants will be waiting. With sleek lines and a pleasing overall physique, she's up
to the challenge.
Outside the top five were 2010 overall Canadian champion Melody Spetko making her pro debut, New Yorker Tammy Patnode, former British champion Sarah Bridges, Slovakia's Aurelia Grozajova, and Mexico's Elizabeth Meza.


So now there are 14 women qualified for the Ms. Olympia. They include Iris Kyle, Yaxeni Oriquen, Debi Laszewski, Dayana Cadeau, Sheila Bleck and Heather Foster from last year's Ms. O. Alina Popa, Betty Viana-Atkins and Cathy Lefrancois from the Ms. I. Helle Neilsen and Skadi Seifert from the FIBO Pro, and Brigita Brezovac, Nicole Ball and Mah-Ann Mendoza from this event. Things are shaping up for a very interesting cast of characters at this year's Ms. O.