Details

Published on Tuesday, 01 May 2012 11:35
Written by Broadway World News Desk
The strongmen are back for one day only at the Olde Time Coney Island Strongman Spectacular on May 20th at 2:30 p.m.
A display of such magnitude has not been seen on the streets of Coney Island for over 60 years. In an effort to bring back the grandiose family friendly spectacles that Coney Island was once known for, Coney Island USA and Adam RealMan, in association with Chris Rider, have collaborated on what can only be described as a colossal event. They have gathered some of the strongest men in the country for a showcase of unusual acts and super human feats the likes of which your eyes have never seen. Not since Coney Island's golden years have giants such as these performed at the legendary amusement mecca in a free, all-ages event staged right on the street. Each of these performers has several unique feats that they have mastered, as well as the classic strongman standards that no strongman cavalcade should be without.
Chris Rider (PA) Chris has been declared "one of the strongest men on this planet" by strength historians. He is a master of hair feats. You'll be amazed as he pulls a full sized pick-up truck loaded with six cast members…with his hair! Chris will attempt to break a world's record for phonebook tearing. The current record is four 672 page books in two minutes. Chris will be ripping phonebooks with over 1200 pages and plans to go through at least seven books.
Stanley "Stanless Steel" Pleskun (NJ) Stan is the only man that can bend a US quarter with his fingers. Stan will be performing a death defying feat of strength as he has a pick-up truck drive over his torso. Most recently, he was featured in a full length documentary about his life as a strongman entitled "Strongman".
Chris "Wonder" Schoeck (NY) Pound for pound, Chris is bending some of the toughest Steel Bars in the 26"-30" range. He is currently the subject of the heartwarming documentary "Bending Steel" which is due to be released this summer.
Brad Johnson (KS) Brad is a bodyweight strength training enthusiast. He is the author of "Bodyweight Exercises for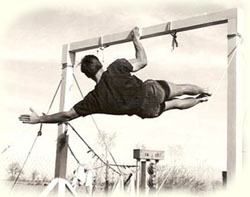 Extraordinary Strength" and has written many bodyweight strength training articles for "MILO: A Journal for Serious Strength Athletes" as well as the IronMind and DragonDoor websites. Brad specializes in pinch grip rafter pull-ups. He was inducted into the Grip Strength Hall of Fame in December of 2011 and has earned the nickname, "King of the Rafters".
Sonny Barry (NJ) Sonny is in his mid 60's and is the best at turning bottle caps inside out with his thumb, and if that doesn't get you, he has the ability to break up to 3 pieces of stacked 2 by 12 construction lumber with NO spacers using only his fist.
Steve Weiner (NY) Steve is a master of combination feats, such as hoisting a 200 pound fire hydrant with his head while lifting a 100 pound granite sphere to his shoulder and levering a 13 pound sledgehammer at the same time.
Baron Von Geiger (NY) Known as the world's strangest strongman, Baron holds a certified world's record for lifting 100 pounds with his earlobes. He will be pulling a truck down the street…with his teeth.
Adam RealMan (NY) Adam is a mainstay at Sideshows by the Seashore. He is an acclaimed sword swallower, fire eater and master and Professa of all sideshow arts. Adam will serve as host and master of ceremonies for this event.
Cardone (NY) Master escape artist, Cardone will perform one of the most physically challenging escape acts, his version of Houdini's potentially deadly 'milk can escape'…let's hope he makes it out!
Special guest of honor, Mike Greenstein, son of legendary Coney Island Strongman, the Mighty Atom will receive an award for his contributions to the art of the strongman.
Outdoor events are free to the public. Limited number of VIP tickets available for $25.00 and include stage-side seating, post-show meet and greet with performers in the Coney Island Museum and an autographed souvenir event poster. Tickets available at www.coneyisland.com.