Details

Published on Monday, 10 January 2011 12:57
Written by Bryan Attila Hildebrand, Tren Ace Reporter
Editors Note:  Rx Muscle's own Bryan Attila Hildebrand will be supplying complete coverage of the 2011 Arnold Strongman Classic starting with a series of articles relating to the history of the event as well as in-depth profiles of the athletes competing.  Look for the live play-by-play of the ASC on March 5th and 6th as well as video interviews and a competition wrapup following the events.
This year's Arnold Strongman Classic (ASC) has some very familiar faces with the addition of some unusual twists. This year's ASC will take place March 4-5 in Columbus, Ohio on the main EXPO stage as part of the larger Arnold Sports Festival. 2009 and 2010 Arnold Strongman Champion Derek Poundstone and 6x winner Zydrunas Savickas will face off against each other in a rematch for the ages! Throw in eight other fierce competitors, as well as the addition of one athlete who qualified via an Strongman event in Los Angeles, and you have the making of one spectacular competition!


Two years ago, defending champion Zydrunas Savickas opted not to compete, leaving the door open for the previous year's runner-up Derek Poundstone to snag a convincing win. Poundstone, then, defeated Savickas at the 2010 ASC. Always the fierce competitor, Savickas avenged that loss by winning The World's Strongest Man later in the year. If the stars all align themselves on March 4-5, and the athletes show up injury-free, this year's Arnold Strongman may be remembered for years to come.

2011 will also see the return of several American former ASC competitors; Travis Ortmayer, Brian Siders and 2010 Worlds Strongest Man Runner-up Brian Shaw. The always formidable and dangerous Russian, Mikhail Koklyaev, will be in the lineup, as well as the 2010 Arnold Amateur World Strongman Champ, Mike Jenkins. Another lucky entrant will come from the yet-to-be-determined winner of the All American Strongman Challenge (at the LA Fit Exp) on January 29th, 2011, in Santa Monica, Ca.

Additionally, two "wild card" spots will be awarded to deserving athletes from the best the strength community has to offer. Those athletes have yet-to-be-announced.

Of note, the strongman community has been grumbling a bit as of late. Their concern as a collective is that the vast majority of events in several promoted competitions around the world have forced athletes to focus on increasing conditioning and athleticism. This is often at the expense of pure strength training and specialized body part training. The strongman community would like to see a more balanced event schedule that would reward all of the Strongman elements equally-- raw power, brutal strength, and athleticism. This year's ASC seems to have addressed that issue with some massive poundage increases in several of the scheduled strength events.


1: Apollon's Wheel – No change here for 2011. This apparatus is a 415lb (187kg) bar with specially constructed individual Steel Wheels that resemble vintage locomotive wheels on each end. The athlete is to pick up, and press the bar (to full lockout) above his head and return to the ground as many times as possible.
2: Hummer Tire Deadlift – Any purist strength athlete will tell you this has been the granddaddy of strength events throughout history, although this event is slightly different in design from its original design. Here, a specially constructed 14 ft bar with gym plates and Hummer tires is grasped and simply pulled from the ground as the athlete stands upright. This year the bar will start at 600 pounds (270 kg) and will increase in weight until there is only one man left standing. Wrist straps may be used with this event as it's a test of overall strength and not hand grip power.
3: Circus Dumbbell – Last year, this very thick-handled dumbbell weighed in at 228lbs (103.5kg). Each athlete will grasp the dumbbell with one or two hands, then lift it to the shoulder, and with one hand only press it to full lockout above their head. This year, the format stays the same; however the dumbbell weight has been increased to 242lbs (110 kg).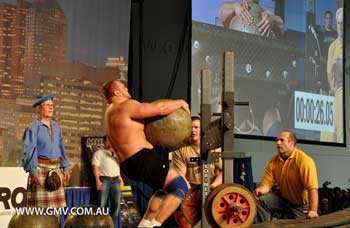 4: Manhood Stones – This is a slight change from last year's strongman classic. Two stones, each weighing 452lbs (205kg) and 535lbs (242.5kg) must be lifted over a 49" bar for maximum reps. The athlete may, however, choose not to lift the smaller stone and opt for the bigger stone only. This would negate any reps from an athlete choosing to lift the smaller stones.
5: Timber Carry – The "farmers walk" dates back hundreds of years to the old Scottish Highland Games events as a test of manhood. Last year the massive timbered frame weighed in at 875lbs. This year, athletes will handle an immense increase of weight to 1,003lbs. The apparatus will be carried, again with straps, 32 feet up an inclined ramp as quickly as possible. Speed, athleticism, immense strength and focus are paramount to success here.


The 5 events will take place over two days, with the final event taking place on center stage at the Veterans Memorial Arena prior to the Arnold Classic Men's Bodybuilding Finals.

With March just around the corner, barring injury or the plague, these eight athletes will certainly wow any and all spectators in attendance on March 4 and 5th. If you've never taken the opportunity to see a strongman competition in person, you owe it to yourself to see this event. This is a first-class production with some of the greatest strength athletes of our time.