Details

Published on Monday, 19 September 2011 19:41
Written by Steve Wennerstrom, IFBB Women's Historian
It's September 16th. It's the Orleans Hotel Arena, and the Ms. Olympia takes center stage for the 31st time in its illustrious history dating back to 1980.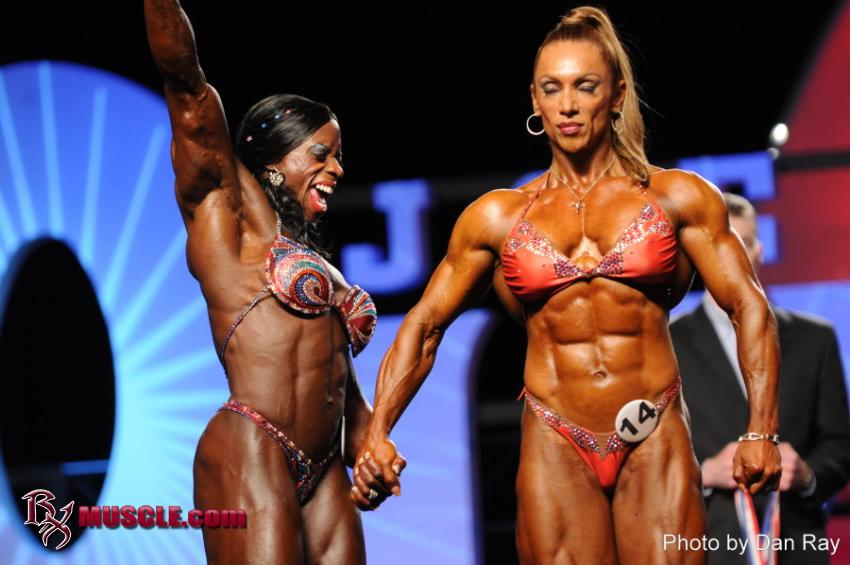 So let's cut to the chase. Unlike last year when Iris Kyle performed what has now become her annual beat down on the rest of the Ms. Olympia field to win her sixth overall Ms. O crown, 2011 was different. Refreshingly different. Fans left the prejudging chattering about the possibilities of an upset even though Kyle continued to be judged as the center of attention. In short, this was not a slam dunk visually as many of Kyle's victories had been in the past. Judges actually took second looks at the likes of Yaxeni Oriquen, Brigita Brezovac, Debi Laszewski, and the voluminous presence of Alina Popa.
This year an original field of 18 contestants made up a very competitive contingent – the largest group since 1997 before Betty Viana withdrew due to medical issues. But the 17 remaining women made for one of the deepest-ever fields in terms of muscle quality, as well as one where defending champion Iris Kyle appeared vulnerable with challengers who had most certainly gone the extra mile in their conditioning and contest preparation to chase down the reigning champion.
So what was it that took away the luster of Kyle's invincibility? Opinions, of course, were in abundance. Observers saw her as being somewhat smaller overall. Many thought her usual muscular detail and sharpness was not up to previous contests. But to use the tried and true boxing term in Iris Kyle's case, "You gotta knockout the champion to win." And that was the bottom line. There are so many facets of the Kyle physique that keep her at a level of dominance. Primarily it is her amazing level of muscle cultivation and shapes that bring immediate attention. There are simply no weaknesses in her anatomical makeup. She is a genetic freak of nature. From her superb arms and shoulders, to the mind-blowing tie-ins from her glutes to hamstrings to a blistering pair of diamond-shaped calves, it's all there in living color. And when pencil is put to paper, judges find her continually devastating. So, even though much of the field brought their 'A' games in the area of conditioning, it was Iris Kyle who put the exclamation mark on the scoring with a unanimous vote of the panel. And when all was said and done, the reality of her brilliance continues without much argument. Her total is now seven Ms. O titles and counting with next year's Olympia bringing her to the very real possibility of equaling Lenda Murray's record of the Ms. O victories. What a show that will be.
With $60,000 in prize money available to the bodybuilding women, Kyle's victory brought her a $28,000 share of the purse. We now wait for 2012.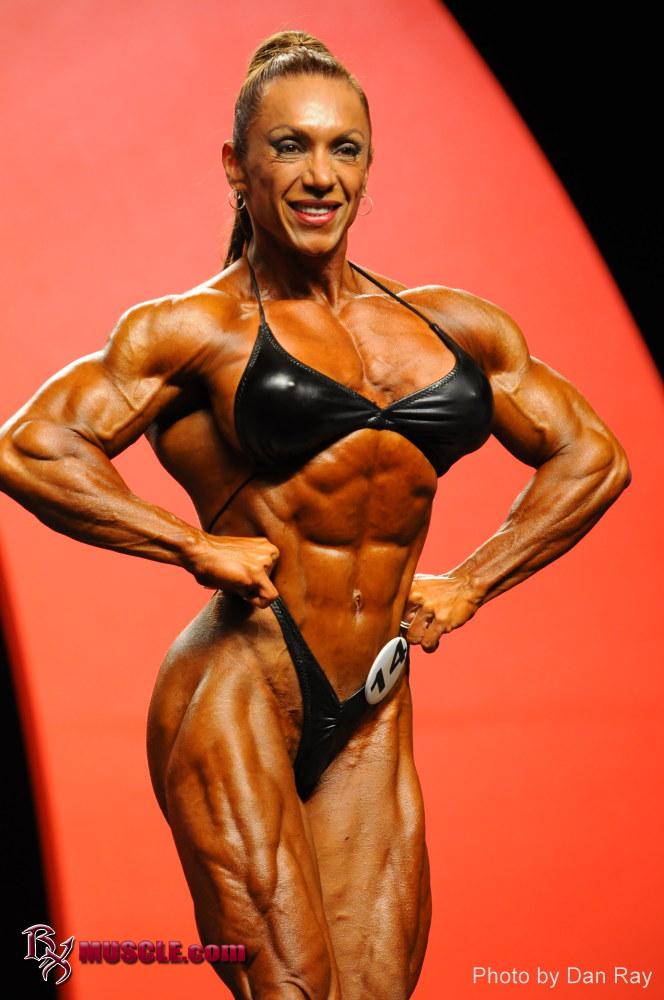 Meanwhile in the bridesmaid spot Yaxeni Oriquen was matching her placing from last year as she posed to 'Purple Rain'. But of equal importance was the fact that she became the all-time leader in longevity at the Ms. Olympia entering her 14th contest dating back to 1998. In fact, she hasn't missed an entry at the Ms. O since '98. Her remarkable string of visits to this event pushed her past Laura Creavalle, who had also entered 13 Ms. Olympia contests in her long career. A winner of the Ms. Olympia in 2005, Oriquen has been a top-ten finisher in each of her 14 Ms. O's. Even more impressive is the fact that she has been a top-five finisher in 10 Ms. O's.
This year Oriquen presented a remarkable level of conditioning, and in the process may have surrendered a level of the muscular volume she has shown in the past - especially in the legs. That said, her quads and hamstrings were shrink-wrapped. And few would argue she was in the best level of conditioning she had ever brought to the Olympia. At 5-7 Oriquen still appeared statuesque among the entrants at this contest and her final score showed she was a unanimous choice behind Kyle. Having just celebrated her 45th birthday on September 3rd, Oriquen completed her 47th pro contest in fine style. FORTY-SEVENTH! For those who find dieting for a contest a difficult experience, let that number sink in for a moment. Clearly, Yaxeni Oriquen is one of an extremely rare breed within women's bodybuilding, and she has offered no evidence that she will be vacating the bodybuilding stage anytime soon. Her prize money for second place totaled $14,000.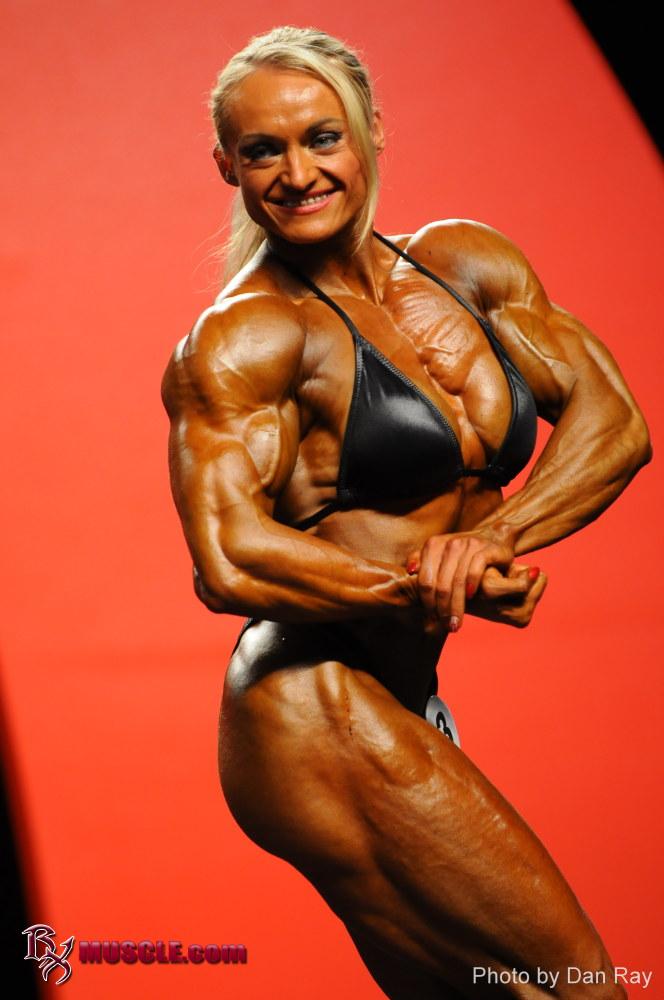 As the antithesis to Oriquen's longevity, third-placed Slovenian Brigita Brezovac is a newborn by comparison. But a finely tuned newborn to be sure. Last year Brezovac flexed her way onto the IFBB pro scene with victories in the Tampa Pro and Battle of Champions events before finishing her debut season with a 10th-place finish at the Ms. Olympia. This year Brezovac continued her winning ways with a victory at the Toronto Super Show along with a third-place finish at the Tampa Pro. She showed in not uncertain terms that she had plenty left in the tank for the Ms. O as she presented an outstanding level of balanced muscle that was finely-tuned. Her place among the top pro elite would seem secure if she continues with her current level of consistency in solid contest prep. Her third-place prize money totaled $8,000.
And speaking of consistency, Floridian Debi Laszewski brought two previous third-place Ms.
O finishes to the stage at this event with every intention of continuing to be a major player among the top placers. With what Dave Palumbo described in his play-by-play as " the freakiest physique on stage", Laszewski was indeed primed and ready for this year's Ms. O. In what anyone would consider her tightest – best - condition ever, she found herself just one point behind Brezovac after prejudging as the two set the pace, along with Oriquen, in the quad-city sweepstakes. The frontal quad detail in this trio was absolutely breathtaking. With judging continuing in the evening, Laszewski slipped another five points behind Brezovac and found herself finishing fourth. Reasons tossed about as to her finish ranged from perceived structural differences in direct comparisons that made Brezovac look more streamlined, to Laszewski's hairstyle working against her as a distraction during her posing routine due to its length. Whatever the case, the top four finishers appeared to have a stranglehold on those positions with the official score sheets supporting that premise. Laszewski pocketed $5,000 for her fourth-place finish.
Fifth-placer Alina Popa made a very strong pitch for her overall quality and potentially bright future with a hard-earned finish in her maiden Ms. O voyage. Born in Romania and living in Switzerland, Popa is a former IFBB World Amateur overall champion, and when she made her pro debut at the Ms. International in 2010 she drew raves for a striking level of muscular quality and genuinely intriguing stage presence. Her eighth-place finish meant little more than the fact that she was noticed – she had made an notable impact. Popa's impact brought another invite to the Ms. I this year and her stock rose dramatically rising from eighth to a no-nonsense third place spot. Her strong finish put her squarely on the radar for the anticipation of a high placing at this her Ms. O debut. She didn't disappoint. In one of the deepest Ms. O fields ever, Popa flexed her way into the fifth position. The placing was no real surprise considering she was in the first call-out of prejudging that included the eventual top five. Popa's best years are clearly ahead with additional detail carved into her 5-7,163-pound frame. She's a structural marvel and in her early 30's, relatively young by female bodybuilding standards. For her first Ms. Olympia she accepted a check for $3,000.
Rounding out the top six was 2008 NPC National overall champion Sheila Bleck. Slipping two
spots from her fourth-place finish in 2010, can best be explained by the extremely high quality of this year's contest. Best known for her inspiring posing performances, Bleck has also made notable improvement in her overall physique which blends an evenness of development throughout her structure and highlighted by diamond-shaped calves and several frontal poses that show outstanding shoulders, arms, and a v-shaped torso. With a pro debut in finishing second at the New York Pro last year and her subsequent fourth-place Ms. O finish, her sixth-place finish this year will only serve to further motivate a competitor who possesses a rocky-steady level of perseverance. Her prize winnings for sixth came to $2,000.
Outside the top six, the field was still star-studded. Places seven through eleven were revealed in the second call-out when Kim Perez, Nicole Ball, Monique Jones, Tina Chandler, and Kim Buck stepped forward for a look-see.
Seventh-placed Kim Perez was in commendable condition with otherworldly arms and shoulders...... so otherworldly that they left her legs in the dust. The imbalance didn't seem to phase the judges. A veteran competitor from Oklahoma, Perez was the 2005 IFBB North American overall champion before turning pro and this year's Ms. O was her debut at an event that had long been her highly desired goal. To qualify, Perez placed third at the 2011 Europa Battle of Champions in Hartford behind Kim Buck and Monique Jones – both of whom she topped at this event.
Eighth went to Canadian Nicole Ball. Competing in her fourth Ms. Olympia her finish here halted a skid in her first three Ms. O's where she placed 8th, 11th and 12th respectively from 2007 to 2009. She looks to have righted the ship in her conditioning, but without added muscle volume in her legs and more prominent biceps peaks (especially in her back double biceps pose), the road to a higher placing will be a challenge.
Making her debut at the Ms. Olympia this year, Monique Jones serves up an impressive overall package when it comes to muscle shapes and size. With broader-than-broad shoulders and enviable delts, to go with legs that match her upper body, Jones is agonizingly close to doing serious damage in the higher placings of this contest in the immediate future. The 2010 IFBB North American overall champion, Jones also made her pro debut this year with a fifth-place showing at the Tampa Pro, and a runner-up placing at the Europa Battle of Champions which qualified her for this year's Ms. O. She made a terrific addition to this lineup.
Cracking the top ten at the Ms. Olympia is a goal of any dedicated bodybuilder and when Texan Tina Chandler notched the tenth-place finish here it was the third time she has accomplished the feat in three tries. A 10th-placer in 2009, and 8th last year, Chandler had made considerable improvement over the calendar year. With a solid eighth-place finish at the Ms. International to start the year and qualifying for the Ms. O with a runner-up placing at the Tampa Pro contest, Chandler holds up well among fields of competitors who are notably larger in height and weight.
In the 11th to 17th positions more than one competitor could bave been considered lost in the proverbial shuffle. In 11th, 2011 Battle of Champions winner Kim Buck was brought out in the second prejudging call-out, but ended up missing the coveted top-ten placing. The 2006 NPC Masters National champion was yet another example of the high quality this field presented, and as all seasoned competitors understand, not everyone can place in the top five. Still, she looked brilliant in this lineup.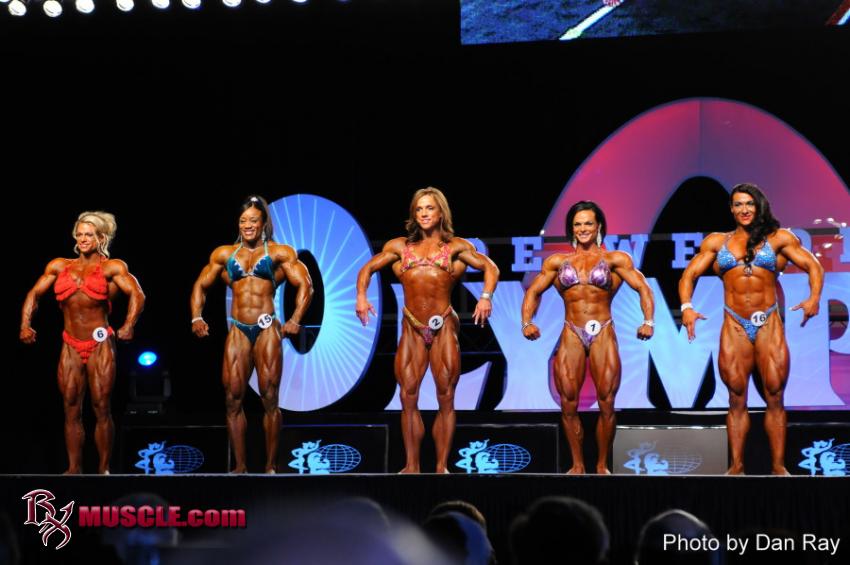 New Yorker Heather Foster claimed the 12th position after placing sixth at the 2010 Ms. O. A veteran competitor now in her 40's, the 2000 NPC National overall champion bounced back well after a forgettable outing at the 2011 Battle of Champions where she missed making the cut to the top 15. This was Foster's fourth Ms. O outing with last year's sixth-place finish as her best effort.
Cathy Lefrancois claimed the unlucky 13th-place position. In four previous Ms.O contests, Lefrancois had never finished worse the seventh. A three-time winner of the New York Pro Championships and a recent winner at the Tampa Pro contest to qualify for this event, shecould have easily suffered being overlooked in such a stalwart group of competitors. Overall, she showed a solid level of conditioning and her muscular balance was complete from head to toe. Her final placing was one of the major surprises of the entire event.
Denmark's Helle Nielsen landed 14th in what proved to be a head-scratching decision. Making a very strong comeback after her pro debut eight years ago where she swept to victory at the 2003 Jan Tana Classic and finished fifth in her first Ms. Olympia that year, Nielsen was victorious at the 2011 FIBO Pro contest in Germany earlier in the year to qualify for this year's Ms. O. Like Lefrancois, Nielsen could have also been lost in the shuffle even though she possessed among the best legs in the contest with an overall balance of impressive muscularity throughout her physique. A higher placing for Nielsen would have been reasonable.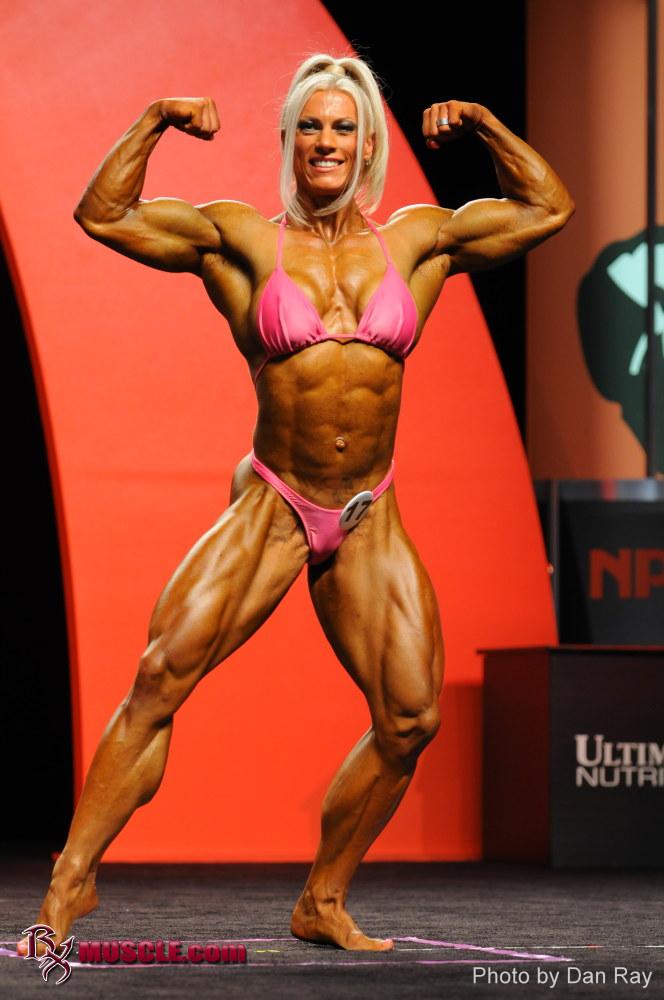 Germany's Skadi Seifert finished 15th and qualified for the Ms. O when she finished second to Nielsen at the FIBO Pro event. Showing nice stage presence and a physique that was muscularly complete, Seifert can moved up in the placings with a consistent level of regimented training over the next year. At 5-6, 160 pounds, Seifert was deceptively muscular, carrying the look of a trained athlete. In fact, she was very athletic in her early years as a discus and javelin thrower growing up in her native East Germany. The former overall German champion competed twice at the pro level in 2010 with a sixth-place finish at the Europa Battle of Champions as her best effort.
In the 16th and 17th positions was a pair of seasoned veterans who were both entering their final contest as pro bodybuilders. Canadian Dayana Cadeau and Oregon's Mah-Ann Mendoza put a final touch on their distinguished careers where both had been competing since the early 90's. Cadeau was competing in her 12th Ms. Olympia (only Y
axeni Oriquen, Iris Kyle and Laura Creavalle have competed in more) and had won the LW class of the 2004 Ms. Olympia. She had also finished in the top five on nine occasions. Cadeau was also a two-time LW winner at the Ms. International.
Mendoza was also an accomplished competitor over the years. Competing this year in her fifth Ms. Olympia, the overall winner at the 2001 NPC USA also competed five times at the Ms. International, and was the overall winner at the 2007 Europa Super Show. Most notably, Mendoza had fought a valiant battle with cancer in recent years and the fact that she was even able to qualify for this event with a third-place finish at the Toronto Super Show is testimony to her bravery in the face of life's stiffest challenges. The duo was brought out as the final comparison during the evening show to recognize their contributions to the sport in a classy move by the IFBB judging panel and administrators.