Details

Published on Sunday, 04 September 2011 23:53
Written by Steve Wennerstrom, IFBB Women's Historian
September 3, 2011. Cleveland, Ohio. Over the years, The IFBB North American Championships has developed a sterling reputation and tradition as a contest that has launched numerous past winners to the pro level. Cory Everson, Lenda Murray and Kim Chizevsky were all winners at this event before they moved on to the pros. In fact, this trio of former North American champions have accounted for 18 Ms. Olympia titles over the years.
Promoter Gary Udit welcomed contestants from Mexico, Canada and the USA to Cleveland for the eighth year with the classy Renaissance Cleveland Hotel serving as the host hotel and contest venue.
This year a total of 35 contestants in the Open and Masters divisions vied for the two available IFBB pro card qualifications by way of winning the overall title in their respective division with a stalwart group of Canadians making their presence felt in no uncertain terms.
Historically, Canadian victories at the North American have been few and far between, but when they have won,they have more than deserved the accolades. Canadians Chris Wesenberg and Deanna Panting won their respective weight classes in 1984 when no overall champion was selected that year. Sharon Bruneau grabbed the overall title in 1991, and most recently Zoa Linsey captured the Open and Masters class overall crowns in 2009.
This year, however, a strong contingent of Canadians managed to make their presence felt in a big way by claiming several top five finishes while putting an explanation mark on their collective efforts with overall victories in both the Open and Masters divisions.
In the Open class Gillian Kovack became the classic example of an entrant who flew comfortably under the proverbial radar with her heavyweight and overall victories. Few if any could have seen her coming. With a contest resume that shows no victories dating back to 2006, Kovack competed three straight times at the Alberta Provincial Championships in 2006, '07 and '09 placing no higher than third in that trio of efforts. Then last year she moved up to the national level and placed fourth at the Canadian Championships as a heavyweight. Still nothing earth-shattering. But a clue could have come from the fact that she hails from Alberta, the same province that produced Olympians Helen Bouchard, Nicole Ball and Debbie Leung among others.
Here, Kovack showed a solid level of muscular balance throughout her physique and her preparation was sound. And in a field of 15 heavyweights, Kovack used a red suit and a strong stage persona to present a winning look. It worked. Kovack defeated a widely varied group of challengers that included the muscularly impressive Floridian Tammy Jones in second, and a highly detailed Keli Watkins from New Jersey in third. Watkins made a solid move up from her seventh-place showing in this class last year. Aesthetically appealing Natalie Ariel equaled the fourth-place finish she earned at last year's North American when she entered as a light-heavyweight. The fifth spot went to Canadian Wendy McMaster who showed on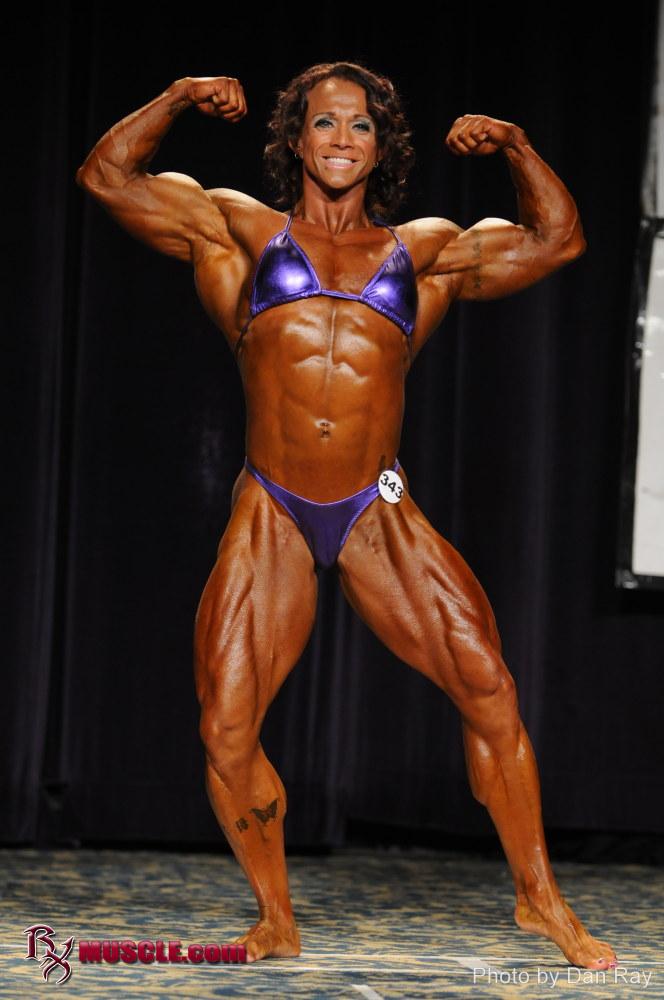 e of the most densely muscled physiques of the entire contest. McMaster equaled her fifth-place finish at this event in 2010, but improved to a third-place spot in the Masters class after placing sixth last year. Like Kovack, McMaster has been a solid top-five finisher in the Canadian Nationals, with a pair of fourth-place HW finishes in 2007 and '08 as best efforts.
In the Masters HW class Cindy Johnson – a former NPC California and Emerald Cup champion - finished fourth and looking very competitive at age 50. Meanwhile, perhaps one of the more surprising placements was veteran-of-veterans Michelle Brent in fifth. An almost living history of the North American by herself, Brent has entered the event 10 times dating back to 1989 placing second on six occasions. Her placement here simply adds to a remarkable example of the perseverance and love of competition she holds for bodybuilding. A majority of competitor don't even compete for ten years.
But in the Masters division, the day belonged to Canadian heavyweight Janeen Lankowski. From Kitchener, Ontario, the 5-3 former competitive gymnast made a triumphant return to this contest after placing second in both the Open and Masters classes as a LtHW last year. Adding several extra pounds of muscle to her frame since last year, Lankowski has made concerted efforts to build a more cultivated physique. Competing since 2003, the 37 year-old will now have her chance to mix it up at the pro level after claiming the overall Masters division title.
Canadians again showed strongly in the light- heavyweight class with veteran Amanda Aivaliotis capturing third in the Open class and fourth in the Masters, while Sharon Mould landed fifth in both divisions. Aivaliotis made a very strong and successful comeback considering she was a third-place finisher at both Canadian and North American Championships in 1995. Now in her mid 40's, she is every bit as good as she was 16 years ago. Mould, on the other hand, is relatively new having begun her competitive efforts in 2003. At last year's North American Mould finished ninth in the light-heavyweight class and seventh in the Masters division, so she has made significant improvement over the past calendar year.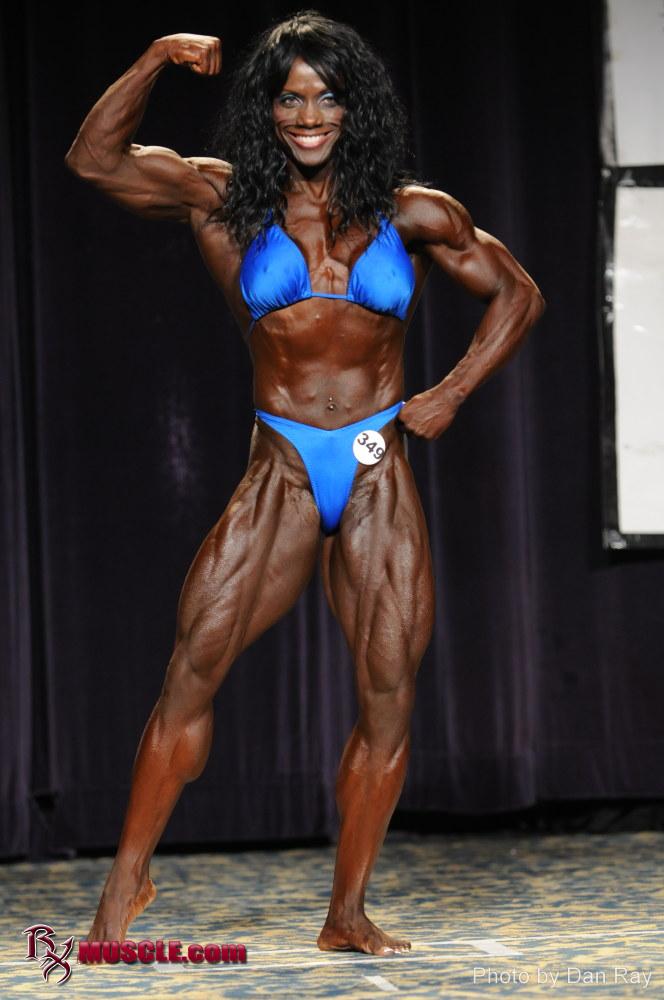 Out-flexing the Canadians in this class was a sparkling veteran - Texan Terri Harris. A MW winner at the NPC Junior Nationals nearly a decade ago in 2002, Harris made five trips to the NPC Nationals without much fanfare until this year when she won the NPC Masters Nationals as a LtHW in the Over-45 class. Harris is now enjoying her best year as a bodybuilder in winning the LtHW class at the North American on her first entry at this event.
Following Harris was Kimberly Ferrell. Her runner-up finish here was validation that she 'was back' after leaving competitions in 2009 with an eighth-place finish at the NPC Nationals. In 2008 Ferrell was the runner-up finisher at this contest as a MW, so the North American event has been a friendly confine for this Indiana native.
Another double placer among the light-heavyweights was Michigan's LaDawn McDay. With a third-place Masters division finish and a fourth in the Open class, McDay continues to pile up strong placings on her contest resume. A former NPC Michigan champion, McDay has been third at the Jr. USA, second at the Jr. Nationals, second at the USA, second at the Nationals, and third in one of her three visits to the North American. The question remains with this potential-laden competitor as to when she will finally put all the ducks in a row and win when it counts. All the tools are certainly there to reach the pro level.
The middleweight class went all American......almost. Without only one Canadian in sight, Arizona's Suzanne Germano made
short work of both the Open and Masters divisions. Her double victory here quickly became her most successful day as a bodybuilder as the former figure competitor (who got her start as a bodybuilder in 2003 and switched to figure) before winning the overall 2009 NPC Junior National Championship, will no doubt make a beeline to the NPC Nationals in November in an effort to grab the class title and a ticket to the pros.
Running second to Germano in both divisions was North Carolina's Sherry Gray. This year Gray became the victim of what she perpetrated on the Open and Masters MW classes in 2010 when she won both divisions of this contest. Gray, another former Figure competitor, most recently finished third at the NPC Masters Nationals and would also be a good bet to make the trip to Florida in November for the Nationals.
Continuing in the carbon copy-like placements was Ohio's Pam Wentz …... a third-place finisher in both divisions. With a distinguished contest history Wentz has competed in five previous NPC Team Universe events with a recent MW victory that will make her the USA representative to the World Amateur Championships later in the year. In 2009 Wentz placed eighth at the Worlds when they were held in Italy. In 2009 Wentz also placed third in the Open class at this contest.
The lone Canadian in this class was Carol Hanley of Ontario and like those who placed in front of her, she placed fourth in both divisions. Hanley, with a distinctively short cropped hairstyle and a lean overall physique, finished fourth at both the Masters and Open Canadian Nationals in 2010.
The fifth and final trophy placer in this class was Michigan's Cheryl Faust. Like Gray, who won this class last year, Faust was a MW North American champion in 2008 , so the quality of this division was never in question. Faust most recently was a fifth-place MW finisher at the 2010 NPC Masters Nationals.
The lightweight class at these North American Championships was over within the blink of an eye, and had some observers wondering if an increase in the weight break from the middleweight class might help to expand this class to accommodate more competitors. With no entrants in the Masters division, Kentucky's Natalie Barnett and Michigan's Amber Clemens battled it out for the Open Class North American title with Barnett getting the nod. Having competed in four previous NPC Junior National events, this was Barnett's first entry at the North American. Perhaps a trip to the NPC Nationals would be in order to really test the competitive waters.