Details

Published on Sunday, 19 June 2011 13:23
Written by Steve Wennerstrom, IFBB Women's Historian
2011 NPC Junior National Championships


Last year marked the 25th anniversary of the NPC Junior Nationals, and without much fanfare that first Junior National contest took place in San Diego on a warm August day in 1986. In the women's bodybuilding portion of that inaugural show just 11 contestants entered the three weight classes offered, but it marked the beginning of what has now become one of the flagship competitions on the annual NPC contest schedule. And over the years this event has consistently drawn large numbers of competitors in bodybuilding,
fitness, figure and more recently the new bikini division. This year, the newly formed 'Physique' division made its debut at the Junior Nationals following on the heels of the first-ever NPC Physique division competition staged at the Junior USA in May. Staged once again in the ballroom of the O'Hare Hyatt Hotel in Rosemont, Illinois, on the weekend of June 17-18, promoter Pam Betz did another sterling job in producing a first rate event, and one that will be remembered for very long time to come.

With women's bodybuilding taking a back seat to the inaugural Physique division at the Junior USA, the roles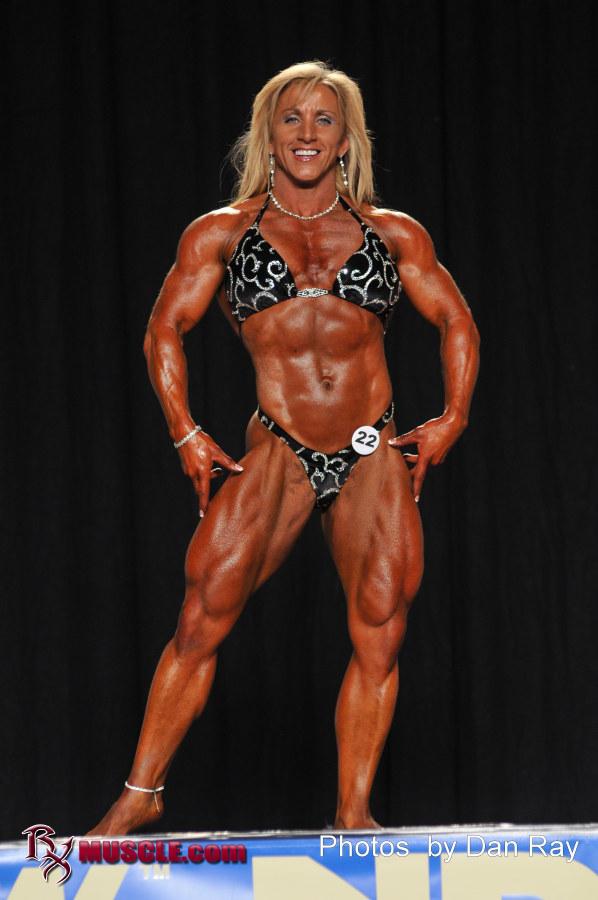 were somewhat reversed at the Junior Nationals as Judy Gaillard from Ripley, Mississippi – believe it or not – sent a ripple through the record book by winning the overall Junior National title just a month after winning the overall crown at the Junior USA. Winning both the Junior USA (a victory that went virtually unnoticed
in all the anticipation of the new Physique division) and Junior Nationals in the same year is an accomplishment that had never been achieved in the past. The win also gave Mississippi its first-ever overall winner at the Junior Nationals. Gaillard's victory this year came in a field of a dozen contestants from 10 states spread over four weight classes. And to reach the posedown for the overall, her toughest challenge came from within her own light-heavyweight class with LaDawn McDay providing a fine physique of her own to put pressure on Gaillard. For Gaillard, the victory this year was a sweet one considering she had entered the Junior Nationals on three previous occasions beginning with a second-place light-heavyweight finish in 2007. For those who wondered why she would enter both the Jr. USA and Jr. Nationals in the same year, there was precedence for her decision. In 2009 she also entered both events, bu
t her runner-up placing at the Jr. USA and a fourth-place finish at the Jr. Nationals didn't sound any particular alarms. Her two victories
this year, however, put a decided exclamation point on her effort in achieving the feat. Interestingly, her unique accomplishment still leaves her short of earning pro status, and will require a entry to either the NPC USA or NPC Nationals to take the next step….should she decide to take it. Her only previous trip to the NPC Nationals resulted in a 14th-place LtHW finish in 2005. As for LaDawn McDay, her runner-up finish in the light-heavyweight class will blend well with the runner-up light-heavyweight finishes she has earned at both the NPC Nationals and NPC USA. A former NPC Michigan state champion, McDay continues to carry all the tools to win a national-level event when she tightens down her overall conditioning. Her muscle shapes make for a pleasing physique. Finishing third in the light-heavies was Ann Marie L'Europa from W. Warick, Michigan.

In other weight class action, Cheryl Shelby of Dolton, Illinois, took top honors in the lightweight class with South Carolina's Amy Sutter – a third-place finisher at the recent Junior USA - moving up to the runner-up spot. Illinois scored its second weight class victory by way of Joey Lynn Bolek of Bolingbrook,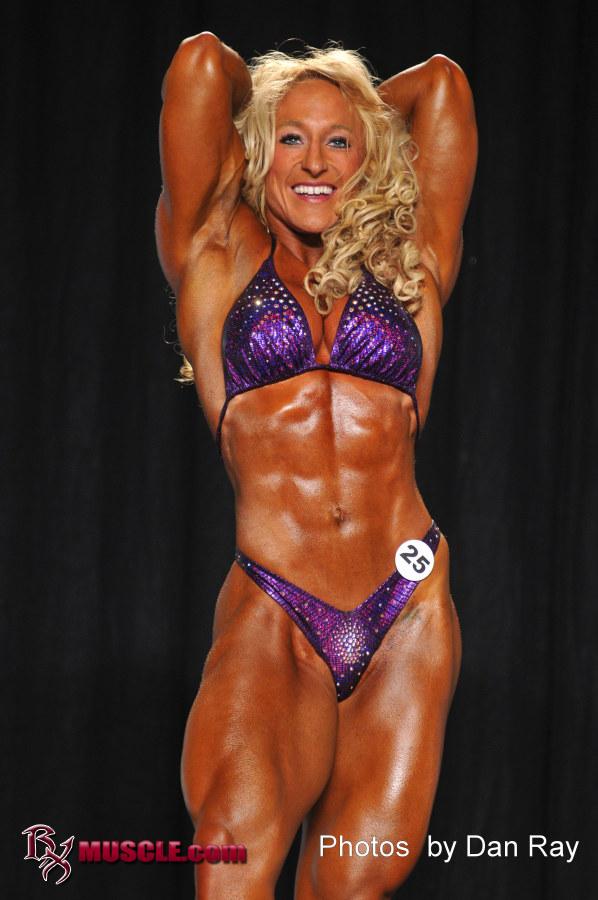 Illinois, in the middleweight class, with Californian Martha Ibarra finishing second in the two-woman class.

In the heavyweight division Georgia's Mary Toole Cain used a set of impressively developed legs to help her outscore four additional challengers. Second went to Jaime Johnson of Fenton, Michigan, with yet another Michigan competitor – Angela Mitchell – placing third. Rounding out the top five was Missouri's Angela Pearson in fourth and Pennsylvanian Theresa Ivancik fifth.
AND HERE"S TO YOU MS. ROBINSON…..

Like bookends, the Jr. USA and Jr. Nationals have been a beehive of feverish anticipation as everyone waited to see how the results would pan out in newly generated fields of former figure competitors moving up and bodybuilders scaling down to fit the new criteria. As it turned out the contests were strikingly similar. Like the Jr. USA, the Jr. Nationals drew just over 40 contestants in two equally divided height classes of under and over 5-4.

In the 'A' class 15 states were represented among the 21 entrants with only five returnees from the Jr. USA a month earlier. But in each of these new events it could be assumed or predicted that a jewel would surface and stick out like the proverbial sore thumb. And such was the case here. From Bartlett, Tennessee, Jennifer Robinson made waves with a pleasing balance and proportion and shapes with a level of muscle that suited the judges to a tee. At 5-3 and competing at around the 120-pound mark, Robinson was making the move from h
er experiences in the Figure division where she had quite literally been hammered into submission with forgettable placements at events such as the NPC Nationals, the Jr. USA and Team Universe. Clearly, she has found a comfortable home in the Physique division where the dreaded 'DNP' finishes are a thing of the past. Robinson is a long way from those days, and that 23rd- place (!) finish in her Figure class at the 2009 Arnold Classic is a distant memory as well it should be. This night new life was breathed into Jennifer Robinson and it will be of great interest to see where she will fit in as the pro division takes shape next year.
Finishing second the Robinson was Rachel Baker of Lutherville, Maryland. As one of the 'pioneers of the Physique division, Baker now has matching runner-up trophies from her two second-place finishes at the Jr.USA and Jr. Nationals. Rebecca Cooper of Springfield, Massachusetts landed in the third-place spot, while Trina Thompson – an 11th-place finisher at the Jr. USA – moved up to fourth at this event. The fifth position went to Georgia's Amy Mendez.
Outside the top five it is interesting to note that former national-class LW and MW bodybuilder Lindsay Mulinazzi did not make the first callout under the assumption that she was carrying too much muscle for the criteria. On the other hand, Susie Torres, a fourth-place finisher at the Jr. USA who did make the first callout did not make the top five, while third-placed Rebecca Cooper didn't make the first callout but finished third - growing pains for judges as well as competitors.
Reveling in Reville's 'B' Victory

Unlike the 'A' class, the 'B' competition brought with it a continuing struggle between two competitors who were only points apart at the Jr. USA. In another field of 20 contestants, six of which were returning from the Jr. USA, the 3rd, 4th and 5th place finishers were ready to duke it out again at the Jr. Nationals. In Charleston, Nola Trimble took the measure of Jillian Reville by just two points as they finished third and fourth respectively. Fifth-placed Heather Payne was not far behind. At the Jr. Nationals, however, Reville turned the tables on Trimble as this dynamic duo finished first and second. As Dave Palumbo stated in his play-by-play, Trimble looked great from the back and Reville looked great from the front, but he liked Reville's overall structure and look and felt that she would
win. The judges agreed. Reville, along with Jennifer Robinson now move on to the pro ranks in the new division, but there will be no rest for the weary as these new pros will soon face pro figure competitors who will also opt for the Physique division. The competition will get decidedly stiffer as the contests evolve. Finishing third was Texan Sheilahe Brown. A bona fide veteran national-level bodybuilder who began her competitive efforts in 1985 and has competed in seven previous NPC National contests where she placed as high as fourth in the heavyweight class, it was nice to see her included in the first callout when many might have assumed she would be swept away due to her level of muscularity. Her strong finish will give many bodybuilders renewed hope that they can still fit in and make the necessary adjustments to this division.

Hometown favorite LaDrissa Bonivel of Chicago claimed the fourth-place spot after a career of figure ontests that also resulted in many of the dreaded 16th-place finishes dating back to 2004. Here, she fit right in and should be experiencing a feeling of renewed motivation about now. Florida's Elizabeth Morales took the fifth and final trophy position in a class that featured a widely varying group of physiques. A figure entrant at the recent Jr. USA, Morales finished 12th in her class. Her finish here will no doubt be much more to her
liking.

Outside the top five, Heather Payne slipped out of the top group becoming the 'odd woman out' after she was included in an initial callout that saw six contestants compared. Payne was fifth at the Jr. USA and was presumably sixth in the final tallies at this event.

Onward to the USA!