Details

Published on Thursday, 15 September 2011 04:05
Written by Dave Palumbo
The 2011 Olympia Weekend is days away from beginning and that means that every armchair quarterback is sitting behind his or her home computer, laptop, or smartphone making their predictions. The question that seems to be looming in the air like the scent of pollen on a fresh spring day is: can Jay Cutler win the Mr. Olympia for a fifth time and continue his reign as the number one bodybuilder in the world? After last year's event came to a conclusion, many fans left the Orleans Arena believing that Phil Heath was the rightful owner of the Sandow statue. However, the history books will remind us that Jay Cutler still reigns supreme and, from the 1-week out preview photos that are circulating around the net, he looks poised to capture yet another title in Las Vegas, Nevada this coming Saturday, September 17, 2011.
Why is Cutler the hands on favorite? Jay's clavicles are so wide that despite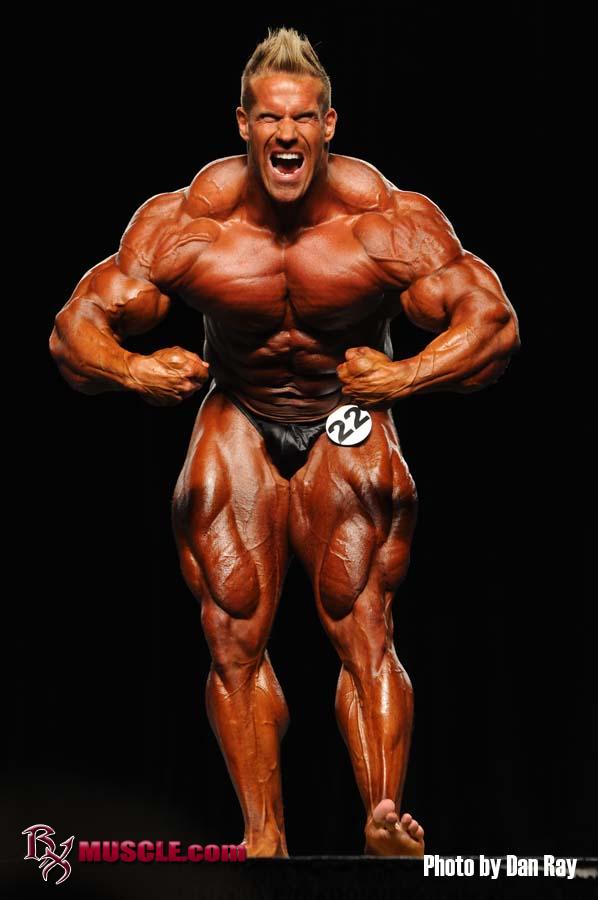 having one of the larger waist diameters in the lineup, he still has the best shoulder-to-waist taper of any of his opponents. And that's a serious testament to just how huge his skeletal structure is. Add slabs upon slabs of muscle mass onto this world-class endoskeleton and you have the makings of a virtually unbeatable machine. Jay's only vulnerability is his inconsistency with nailing his conditioning for prejudging. When Jay is "on", he's unbeatable by any of the current crop of opponents. When he's not quite peaked, his immortal status starts to slip and he gets picked apart by the shape freaks like Phil Heath and Kai Greene. In my humble opinion, Cutler's fate rests in his own hands.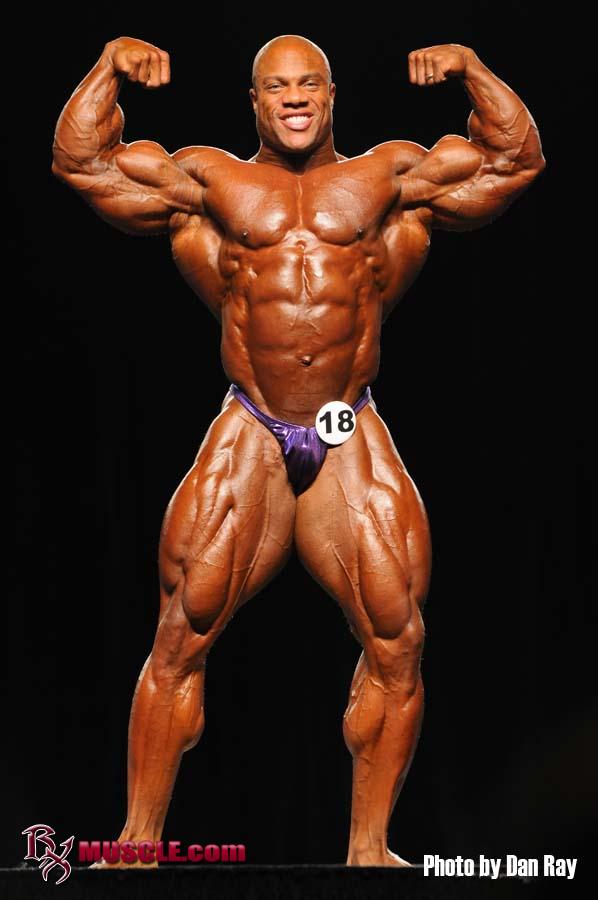 According to many fans, experts, and media critic,s the heir apparent to the Olympia throne is the man they call "The Gift", Phil Heath. Ever since turning pro in, virtually, a single season by unanimously winning the NPC USA Championships, Heath has consistently improved in every outing, crushing pretty much every show he entered (2006 Colorado & New York Pro; and 2008 Ironman Pro). The only titles that have eluded him, thus far, are the Arnold Classic (which many thought he should have notched in 2010) and the Mr. Olympia. After finishing in the runner-up spot at last year's Olympia, many are wondering if this is Heath's year; his destiny? With arguably the best arms and delts in the business and some of the wackiest conditioning I've ever seen on a competitor, Heath is one of the fiercest competitors to contend with when he's 100%. His only criticism has been something he has absolutely no control over; narrow clavicles! In most top pro bodybuilders, that's the kiss of death. Narrow usually means "out of the running". For Heath however, it's just merely an obstacle he must overcome to garnish the one title that he's been lusting for ever since trading in his basketball sneakers for a weightlifting belt. If Cutler is a wee bit off, Heath could snag his first Olympia title come Saturday night!
The man I've anointed as the "freakiest freak" in bodybuilding, Kai Greene, has been praised by many as the only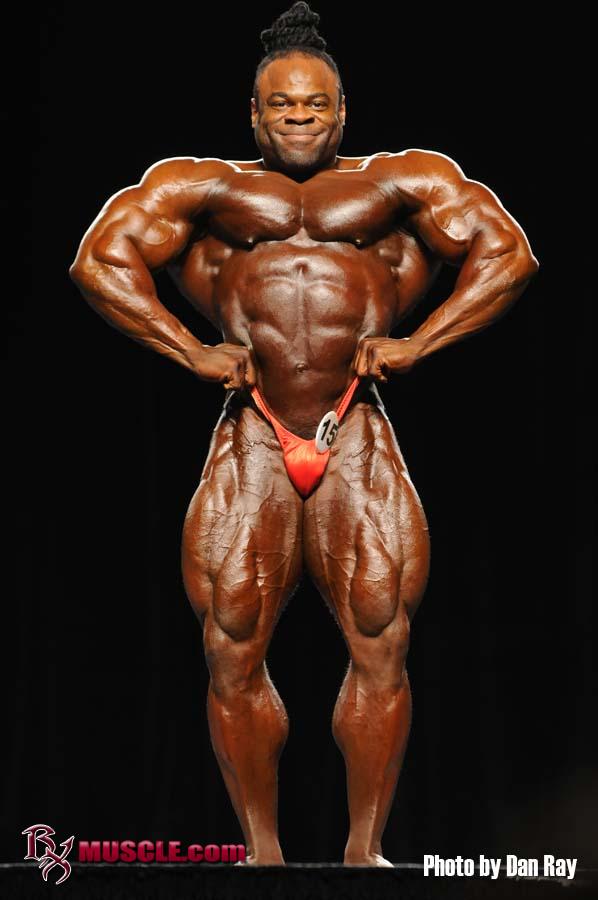 human on the planet who can actually knock off the 4x Mr Olympia champ. Greene's insane muscle mass and shape on a small-jointed bone structure, together with his samurai-like long pony tail and maniacal facial expressions, have led to his unique nickname, "The Predator". Like a true predator, Greene hunts down his opponents and makes them look feeble and weak next to his Ronnie Coleman-esque, gargantuan, proportion. 5'8" 270lbs is just incomprehensible till you see the guy in action. When Greene handily won the 2009 Arnold Classic, bodybuilding critics (myself included) were pinning him as a shoe-in for the Mr. Olympia title that year. The Universe, it appears, had other plans for Greene as he simply wasn't able to peak his body for that event. Last year, Greene's bad Olympia luck reared its ugly head yet again when, after winning the Arnold Classic for the 2nd straight year, he failed to make the top 5 at the Big Show. Will 2011 be the year that Kai breaks the Olympia jinx? Or will Kai fall victim to the hot and arid Las Vegas desert yet again? Only time will tell, but in my humble opinion, if Greene is 100% come Friday & Saturday night, Cutler and Heath may be in for a very long weekend.
In 2007, Victor Martinez pushed the freshly anointed Mr. Olympia Jay Cutler to brink of destruction in a contest almost everyone in attendance thought that Martinez won. Unfortunately for Martinez, Cutler escaped by the skin of his teeth. The following year plagued Martinez with a brutal injury to his patella tendon and ever since then we haven't seen the same imposing physique return to the stage. Can 2011 prove to be the year that Victor Martinez re-establishes himself as the very dangerous competitor that he is? Chris Aceto has said that Martinez is "a more massive version of Dexter Jackson". With oodles of shape and structure and some of the prettiest muscle bellies since Flex Wheeler, if Victor can bring in Jackson's level on conditioning come Friday night, we just might see this "darkhorse" competitor stealing the show.
In 2008, Dexter Jackson won every show he entered: Arnold Classic, Romanian Pro,
Aussie Pro, New Zealand Pro, and the Mr. Olympia. The Blade was on fire and despite being the smallest competitor in the top 5 echelon of the IFBB Pro ranks, Jackson proved to be one of its most dangerous. 2010 and 2011, however, has seen Jackson slipping back in the ranks; showing a vulnerability he's never displayed before. Can Dexter regain his blade-like conditioning and solidify his place in the Olympia top 5, or will this be the first time in recent memory that Jackson finishes out of the big money?
Germany's Dennis Wolf rocked the Olympia stage in 2007 by chasing Cutler all over the stage in the final posedown round. Many people thought that Wolf matched up so favorably with Cutler on that night that he'd be the guy to beat in 2008. Wolf would have to settle for 4th the following year and then in 2009 he, disappointingly, placed out of the top 15. Not one to give up, Wolf bounced back in 2010 with a 5th place at the O and then impressed the bodybuilding world by placing 2nd at the 2011 Arnold Classic and winning the Australian Grand Prix. While Wolf is the only bodybuilder in the lineup with the width to challenge Cutler, his high lat insertions and undersized hamstrings and calves pose serious problems when he turns to the back. I don't think Wolf will be pulling off any miracle victories at the Orleans Arena come Saturday night; however, I wouldn't be surprised to see a solid top 5 finish for the 2nd consecutive year.

Whenever a bodybuilding lineup is assessed and predictions are made, you must always consider the "X-factor"—or
"unknown" variable-- that can radically alter the predicted outcome. In my estimation, this year's game-changer might, ironically, be the "X-Man", himself; Toney Freeman! Freeman is coming off a win at the 2011 Europa Super Show and he seems to be feeling his groove again. No one in this Olympia lineup can match Freeman's structure and sheer muscle beauty. If you ask 10 guys on the street who'd they like to look like, 9 of them will tell you they'd kill to look like the 6'2" 280lb X-framed Adonis. If Toney can nail his conditioning and bring a physique reminiscent of his 5th place Olympia showing in 2008, everyone in this lineup better be scared; very scared!
Ronny Rockel had a superb 2011 season. He won the IFBB Mr Europe, finished 2nd at FIBO Germany, 2nd at the New York Pro, and he placed 6th at the Arnold Classic. With credentials like that, you'd imagine he might be ranked a little higher going into the "Big Show" this Friday night. While Rockel has impeccable symmetry and is a classic poser, he'll never the biggest guy onstage and his conditioning (especially from behind) is usually his Achilles heal when matching up against the best in the world. Can the German duplicate his top 6 finish from last year's Olympia? With Branch Warren and Evan Centopani out of the lineup, all it'll take is 1 or 2 guys to be off their game (which is more than likely to occur) and Rockel can slip right in there. I wouldn't be shocked if the tenacious Rockel finishes as high as 5!
In 2011, Craig Richardson proved that he's a force to be reckoned with in the IFBB. He started off the year with a 3rd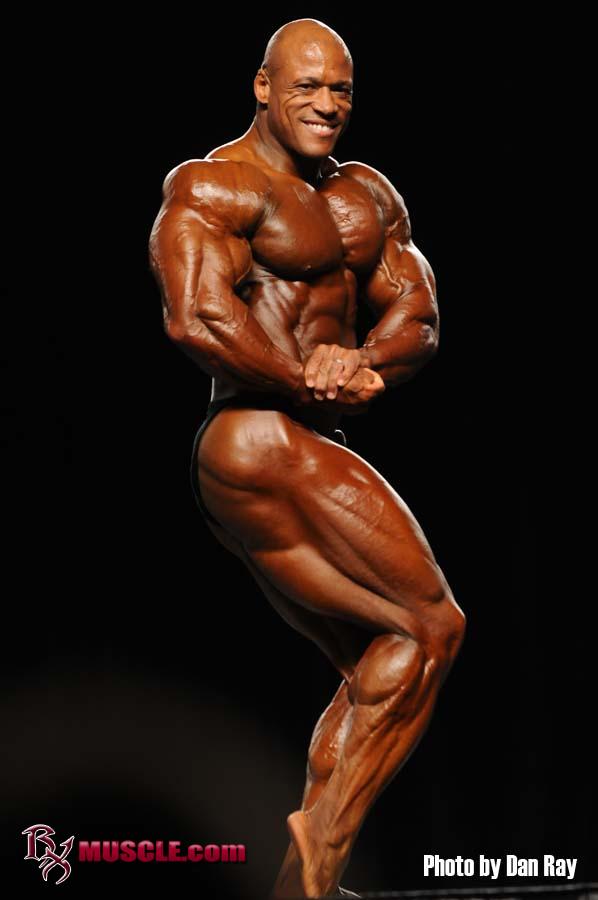 place finish at the New York Pro and then followed that up with a convincing win at the Toronto Pro. Richardson's ridiculous conditioning coupled with a beautiful shape and oodles of symmetry helped the former Teen Nationals Champion (1994) become a serious player in the bodybuilding pro ranks. Look for Richardson to bring that same shredded look to Las Vegas and possibly shake thing up in the elite Olympia top 10.
In 2010, Hidetada Yamagishi won the first pro show of his career at the Orlando Europa Show of Champions. This year, he placed a convincing 2nd at the PBW Tampa Pro and, 2 weeks ago; he managed a rather controversial 2nd at the Phoenix Pro. Yamagishi's strengths have always been his sliced and diced conditioning; complete with striations on top of striations. In his last outing, he was not the Hide we're used to seeing. I believe this less-than-spectacular showing in Phoenix will be all the motivation the Japanese Pro needs to bring his A-game to Las Vegas and snag another top-10 finish in this extremely deep Olympia lineup.
Now that you know my 2011 Olympia impressions and evaluations, I'll be so bold as to go on record and post my top 10 predictions:
1.Jay Cutler
2.Kai Greene
3.Phil Heath
4.Victor Martinez
5.Toney Freeman
6.Dennis Wolf
7.Dexter Jackson
8.Ronnie Rockel
9.Craig Richardson
10.Hidetada Yamagishi