Details

Published on Wednesday, 11 March 2015 23:53
Written by Steve Wennerstrom, IFBB Women's Historian
Malacarne's magic takes over at the inaugural Women's Physique International
First Place Juliana Malacarne
First things first. There's an old saying that 'everything changes, nothing stays the same'. And so it was at this year's Arnold Classic where Women's Bodybuilding became a thing of the past, and the change was that the Women's Physique Division stepped in to fill the void.
After decades of the popular Ms. International Bodybuilding events that helped jettison to stardom competitors with names like Iris Kyle, Kim Chizevsky, Vickie Gates, and Yolanda Hughes among many others that dated as far back as the late 80's, this year the Women's Physique Division was added on the heels of its notable growth in popularity within the IFBB pro ranks since 2012. Last year, 174 different pro Physique competitors competed during the calendar year contributing to over 320 entries in 21 contests. This year, the Physique International kicked off what will inevitably be another busy season in this fast-growing group of competitors.
With slightly over 80 contestants from the IFBB Pro Physique division petitioning for an invitation to the Physique International, the selection committee made it an unmistakably elite field of 11 contestants to take part. How elite? Well, each of the 11 selectees had competed in last year's Physique Olympia field, and 9 of the 11 had finished in the top ten at the Physique O. For fans of this division, the question would be whether the Physique International would be a carbon copy of the 2014 Physique Olympia, or would placings from top to bottom be shaken or at least stirred?
Prize money totaled $10,000 for this first year of the Physique International and the eventual winner claimed half of that. By comparison, Rachel McLish won $5,000 as the first winner of the Ms. Olympia in 1980. Whether the Physique International gains the same level of prestige as the Ms. International enjoyed for so many years will depend on the number of contestants invited and the increase in prize money in the future. But this year's event is a start. But with the quality of women competing this year as ground zero, it's clear the building of a tradition for this division is well under way.
Predictability and Varying Opinions
Second Place Dana Linn Bailey
For fans who were planning to attend the evening show on Friday, they may have been surprised to find that the Physique International was not included. The evening event featured the Men's 212, Figure and Fitness. The Physique International final came immediately following the prejudging. Normally there is a period of time between the prejudging and evening event which always fosters the anticipation of who will win, place and show. But for fans and competitors the results came quickly.
With a field of 11, the first callout summoned a group of six, and it would be the eventual top six. The second callout was the remaining five.
Across the board, the overall condition of the 11 competitors was slightly off what they brought to the Olympia stage five months earlier. That reality was not really surprising considering the months following the Olympia includes holidays, and a cold weather climate for most of the entrants who were in the midst of a long off-season. Collectively, they simply weren't firing on all cylinders. Tycie Coppett and Karina Nascimento actually came the closest to matching their Olympia condition, and their effort helped to stabilize their final placements.
As for pre-contest favorite, Juliana Malacarne, her level of genetics that feature a great bone structure, idyllic muscle shapes, and a conditioning level that displays her overall look so well, she pretty much wrapped up the title within minutes of taking the stage. Long-term, she will be very difficult to unseat until another competitor with a similar overall package surfaces. Her vote of the judges was unanimous. In fact, as the final tallies reveal, the top five placers all received unanimous votes for their placings.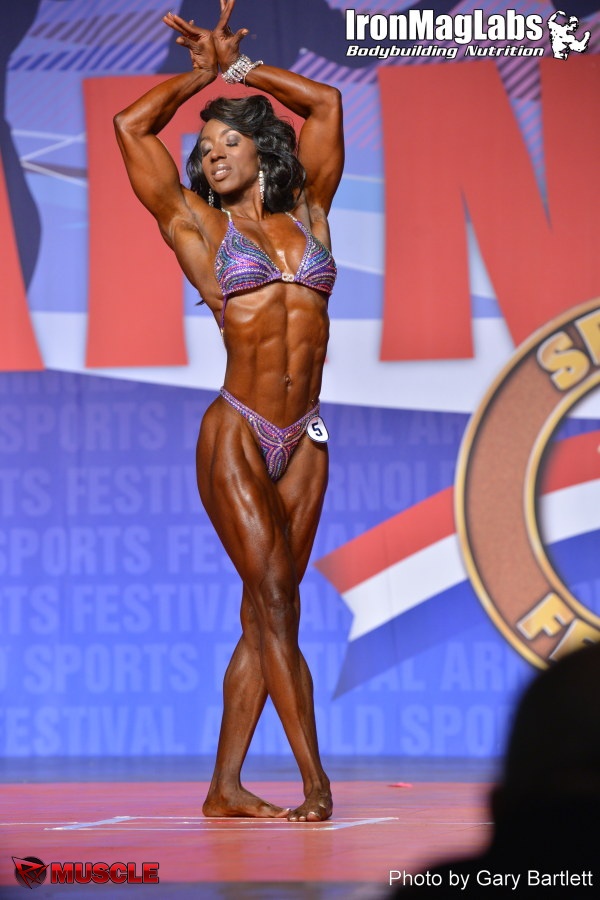 Third Place Tycie Coppett
For Malacarne, her victory brought her an additional 'first' to go with winning the first Physique International title. She becomes the first Physique competitor to win both the Physique Olympia and Physique International. To go with her win she also pocketed a tidy $5,000 in prize money. The victory was Malacarne's sixth as a pro Physique competitor – more than any other athlete in that division.
Finishing second, and as Malacarne's primary pursuer, was Dana Linn Bailey. Of the top five finishers, Bailey was most notably off the top level conditioning that has brought her success in past events that she has won. Here, more than anything else in her onstage arsenal was the undeniable stage persona and connection she has with an audience. And it was the prime element that kept her competitive. Bailey earns her attention, but she will need to be at her very best level of conditioning in future pro Physique events if she is to maintain top level finishes with so many talented competitors waiting in the wings to challenge for the top spots. She collected $2,000 for her runner-up finish.
Tycie Coppett matched her third-place finish at the 2014 Physique Olympia with the same placement here, and her eye-catching look had many feeling she had edged ever closer to chasing down Dana Linn Bailey. Coppett was in terrific condition and her height gives her a regal appearance among so many competitors that are several inches shorter. In Coppett's case, she is so well balanced she could add more pounds to her structure without the fear of becoming what some might consider 'too big'. Like Malacarne and Bailey, Coppett was deemed unanimous for her third-place finish and accepted a check for $1,500.
Fourth Place Karina Nascimento
Fourth went to Brazilian-born Karina Nascimento. As the winner of the first-ever pro Physique division event in 2012, Nascimento continues to write her own history with each passing contest. Most impressively at this Physique International, Nascimento returned to the Columbus stage for the first time since 2003 when, as a bodybuilder, she placed third in the lightweight class of the Ms. International that year. So clearly, 12 years and the birth of three children had done little in taking away the vibrant stage presence and a top conditioning level to keep her competitive over that length of time. She simply refuses to age.
Along with Coppett, Nascimento was very close to her Physique Olympia condition from last year, and it's fair to wager she will once again bring her special brand of competitiveness later this year when the Olympia Weekend rolls around. Nascimento's prize money totaled $1,000, and she was also a unanimous choice for her placing.
Fifth placer LaDrissa Bonivel placed seventh at last year's Physique Olympia, but at this event she hop-scotched over Sabrina Taylor and Mindi O'Brien (the 5th and 6th placers at the Olympia) to earn very valuable Olympia Qualification Series points towards this year's Olympia. Her placing was well earned as she was picked out by several observers as the most improved of the Olympia competitors from last year competing at this event.
Most notably, Bonivel's overall muscular balance was clearly better than last year, and she has elevated herself to stand in any lineup at the highest level. With the five points she earned towards Olympia qualification – along with an additional point she already had from a post-Olympia show late last year – her $500 in prize money was almost inconsequential. It would be difficult to imagine her not making it to the Olympia stage once again this year.
Fifth Place LaDrissa Bonivel
Sixth went to Sabrina Taylor, and not by much. By the judging tallies, Taylor fell short of the fifth-place spot by a single point as LaDrissa Bonivel totaled 25 points to Taylor's 26. It doesn't get any closer than that. A fifth-placer at the Olympia last year, Taylor remains competitive with an overall structure that appears perfectly suited for the Physique division. With her many years of experience as a Fitness competitor in the pro ranks, her four prior victories in the Physique division since 2012 is the best evidence that she has the goods to be competitive at any show. In fact, only Juliana Malacarne and Tamee Marie have won more pro Physique contests.
FINAL RESULTS
1- Juliana Malacarne, Brazil 5
2- Dana Linn Bailey, USA 10
3- Tycie Coppett, USA 15
4- Karina Nascimento, USA 20
5- LaDrissa Bonivel, USA 25
6- Sabrina Taylor, USA 26
7- Jillian Reville, USA 35
8- Mindi O'Brien, USA 41
9- Heather Grace, USA 44
10- Jennifer Robinson, USA 52
11- Nathalie Falk, Germany 53